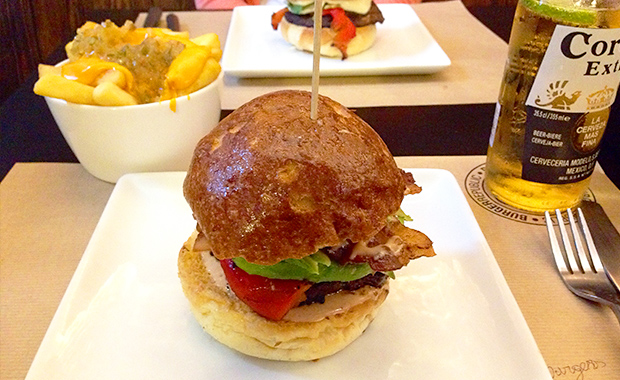 I Ixelles, en av Bryssels vackraste stadsdelar, hittar vi den omtalade hamburgerrestaurangen Burger Republic. En restaurang som enligt majoritet av användarna på Tripadvisor och Yelp serverar de bästa burgarna i Bryssel.
Visst ser det bra ut med biffar av Black Angus-kött, färskt bröd från det lokala bageriet och fräscha ingredienser som tillagas dagligen. All potential finns på pappret för att göra en superb burgare, men tyvärr når inte Burger Republic ända fram till målet.
Köttet var för hårt stekt vilket resulterade i att det blev torrt, och även brödet var lite för hårt rostat vilket gjorde att den fluffiga texturen inte fanns kvar. Men med det sagt så var smaken fortfarande god tack vara råvarornas kvalité.
Helhetsintrycket höjs även en aning av pommes fritesen som serverades med en spännande och välsmakande relishblandning. Burgarna kostar mellan 80-115 kr, och om man vill ha pommes frites kostar det ungefär 30 kr extra.
En försiktig rekommendation för dig som befinner dig i Bryssel.
In English
The hyped Burger Republic is located in the beautiful Ixelles area in Brussels, an everything looks fine on paper. Unfortunately both the patty and the bread are somewhat overdone, even if the relish served with the fries help alleviate these problems. You could do worse if you're in Brussels, though.