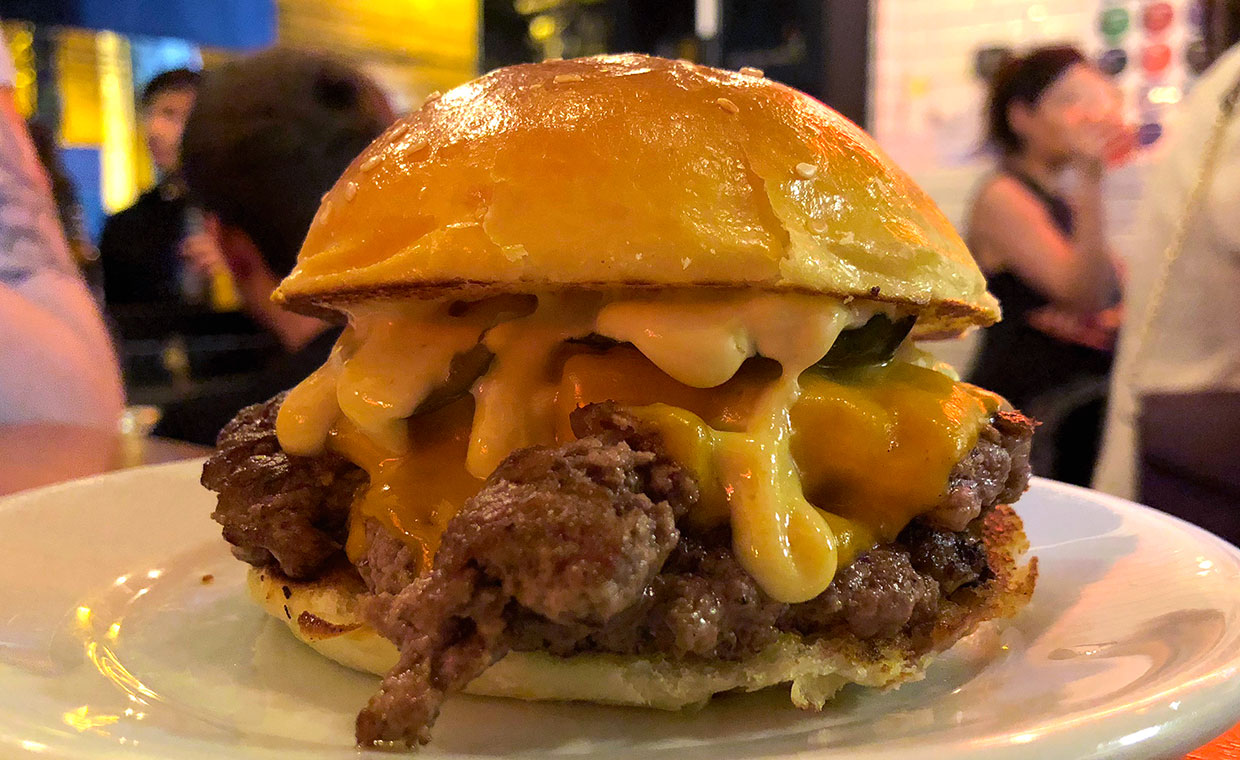 São Paulo har länge varit en burgarstad vi har varit nyfika på, och Z Deli Sandwiches har legat i topp bland dess intressanta burgarhak.
När vi besökte deras restaurang i centrala Jardins-området möttes vi av en kö med hungriga besökare utanför entrén. Flera åt takeaway-burgare och satt utanför i anslutning till restaurangen. Klientelet var unga coola människor, och det kändes helt enkelt som ett riktigt trendigt ställe att hänga på.
Vi beställde deras cheeseburgare för 25 brasilianska reais, vilket motsvarar ungefär 60 kronor. Cheeseburgaren bestod av två smashade puckar på 90 gram, amerikansk cheddar, silverlök, pickles och deras deli-sås.
Burgaren var en vacker och kladdig skapelse med glänsande bröd. Redan här visste vi att den skulle vara bra, och när vi tog vår första tugga fick vi ett leende på läpparna. Köttet var saftigt och löst, osten var krämig och allt kändes riktigt bra.
Det enda vi egentligen hade synpunkter på var att köttet borde ha saltats och pepprats mer. Intressant nog var deras rosmarinkryddade pommes frites alldeles för salta, så om de kan hitta rätt salt- och pepparbalans i framtiden kommer vi att överösa dem med ännu mer kärlek.
Om du är i närheten av Z Deli Sandwiches eller bara i São Paulo är detta ett givet besök om du vill ha en utmärkt burgarupplevelse.
In English
Z Deli Sandwiches have three burger joints in São Paulo, and we visited their joint in the central Jardins district. The long queue of young and cool people really showed how trendy it was. We chose their cheeseburger with two smashed 90 gram patties, American cheese, pickles, white onions and their deli sauce. Our burger was a beautiful mess and we knew that we were in for a treat. Everything was juicy and texture was spot on, and our only real remark is that the patties needed more seasoning to be perfect. Interestingly enough their rosemary fries was too salty. We hope they can balance the seasoning better in the future, because we want to return soon again.