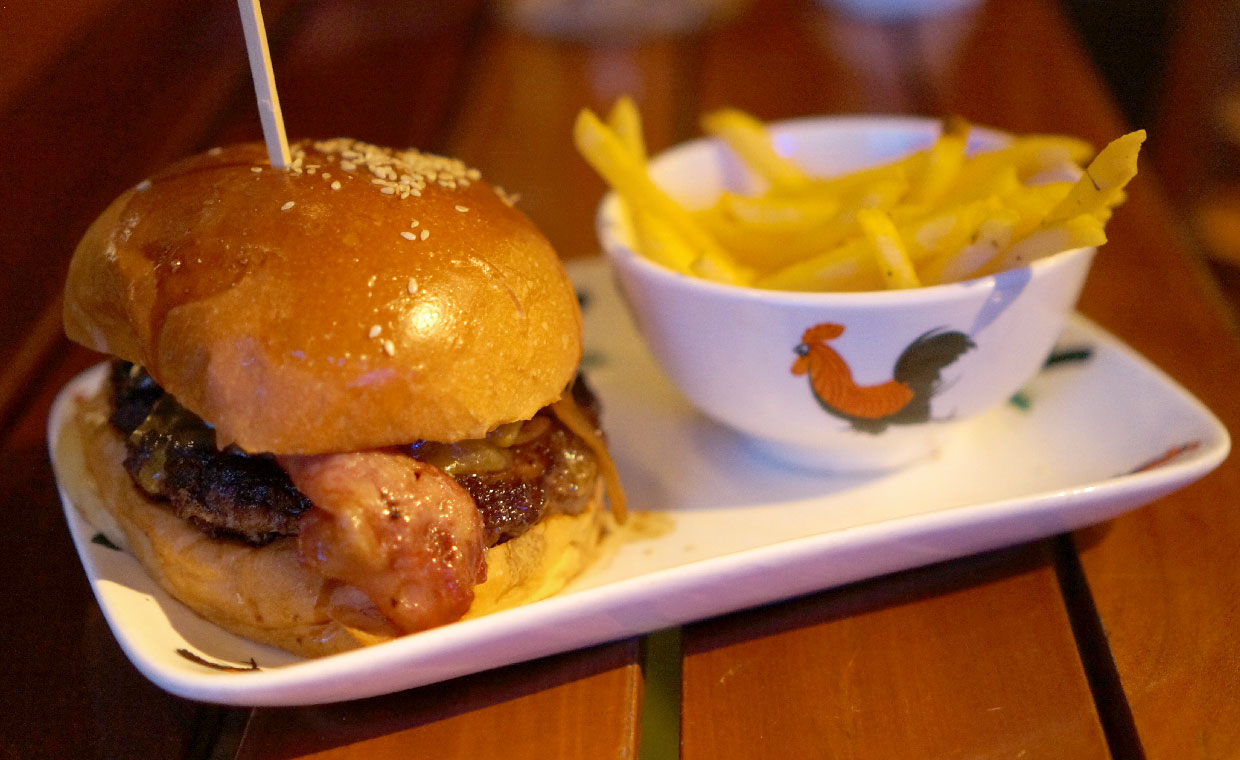 Shanghai är en stad i förändring. De karaktäristiska Longtang-husen demoleras för att göra plats åt skyskrapor, och stadens kulinariska upplevelser blir allt bredare. Mikrobryggeriet The BREW har huserat i Kerry Hotel Pudongs bottenvåning i flera år. Hotellet, som står värd för mängder av konferenser och evenemang, har blivit ett vattenhål för utländska besökare som sedan öppningen spridit sina rekommendationer av hotellpuben. Idag anses de servera en av de bästa burgarna i staden.
Deras "Brewery Burger" kostar 125 kronor, vilket är dyrt för att vara i Shanghai. Vårt besök började med att vi blev tillfrågade om dess stekgrad, något vi alltid uppskattar. Burgaren med karamelliserad lök, bacon och ost var maffig och såg väldigt fin ut med bra kött- och brödratio.
Tyvärr tog den blöta karamelliserade löken över för mycket av smaken, samtidigt som baconet var alldeles för anonymt. Brödet blev snabbt soggigt på grund av lök- och köttsafterna. Köttpucken var lite rosa, precis som vi beställde, men var dessvärre kompakt och hade en för hård stekt skorpa. Överlag var vi inte helt nöjda med den dyra burgaren från The BREW. Vi kan dock rekommendera ett besök om ni är sugna på att dricka kvalitativ öl från ett spännande mikrobryggeri.
In English
The BREW is a microbrewery located at the bottom floor of the Kerry Hotel Pudong. Since its opening the establishment has got an excellent reputation of serving great beer and a high-quality burger. Their Brewery Burger comes with caramelized onions, cheese and bacon, and is quite expensive for a burger in Shanghai. The flavours were dominated by the soaking wet caramelized onions that quickly turned the bun into a soggy mess. The patty was compact and had a really thick crust, and we can't really recommend their pricey burger - even though their beer is excellent and well worth a visit.