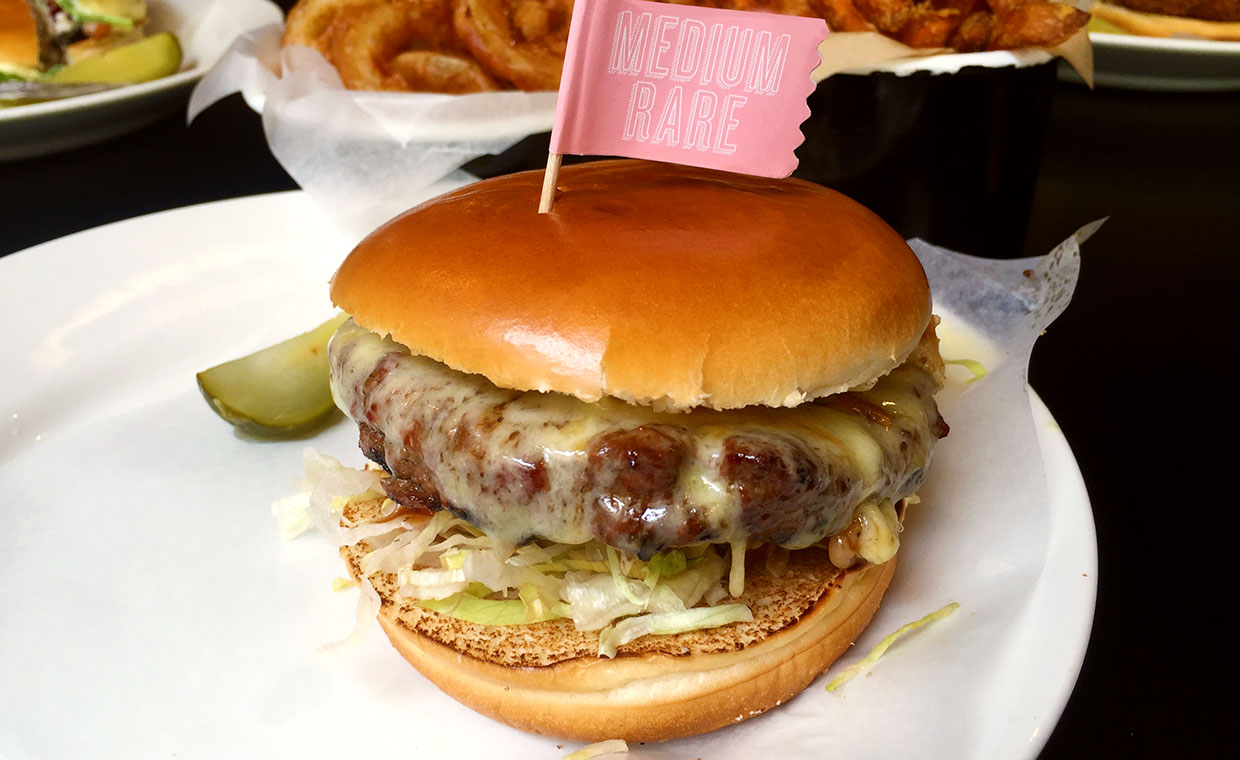 Byron Hamburgers öppnade sin första restaurang för snart 10 år sedan, och finns nu över hela England. Störst är de i London, och ibland känns det som att man inte kan runda ett hörn utan att hitta ett skyltfönster som skryter om deras "Proper burgers" – riktiga burgare, alltså. Vi besökte dem för många år sedan och var inte särskilt imponerande, men nu var det dags att testa dem på nytt.
Det finns många saker som Byron gör rätt. För det första får man alltid välja sin egen stekgrad på köttet, och de har alltid ett stort ölutbud. Valet föll på deras Smoky för 10 pund (cirka 115 kronor), med en 170-gramsköttpuck, cheddar, bacon, stekt lök, sallad och en barbecuesås. Till detta beställde vi lökringar och sötpotatispommesfrites, men båda dessa kostade lite mer än de smakade.
Köttet var i alla fall utmärkt medium rare-stekt och smakade riktigt gott, men den stora besvikelsen var själva brödet. På sin webbplats skryter de om sitt bröd, men det var torrt, sött och smakade nästan exakt som hamburgerbrödet gör på McDonalds. Dessutom måste det ha varit gammalt, då det var tråkigt smuligt.
Byron Hamburgers var kanske ett spännande tillskott till burgarscenen 2007, men tiden har gått ifrån dem och de ligger numera långt bakom sina konkurrenter.
In English
With over 60 locations in England (and 40 of them being in London), it feels like there's a Byron Hamburgers restaurant around every corner. And while they may have been well above average when they launched in 2007, they're not ahead of the pack any longer. We chose their Smoky burger with bacon, cheese and a barbecue sauce, and the medium rare patty was really tasty. Unfortunately, the bun felt more like a McDonald's bun – dry, sweet and quite stale. So while we liked some parts, such as the meat and their beer selection, we were disappointed in the bread, the overpriced sides and the overall high price-point.