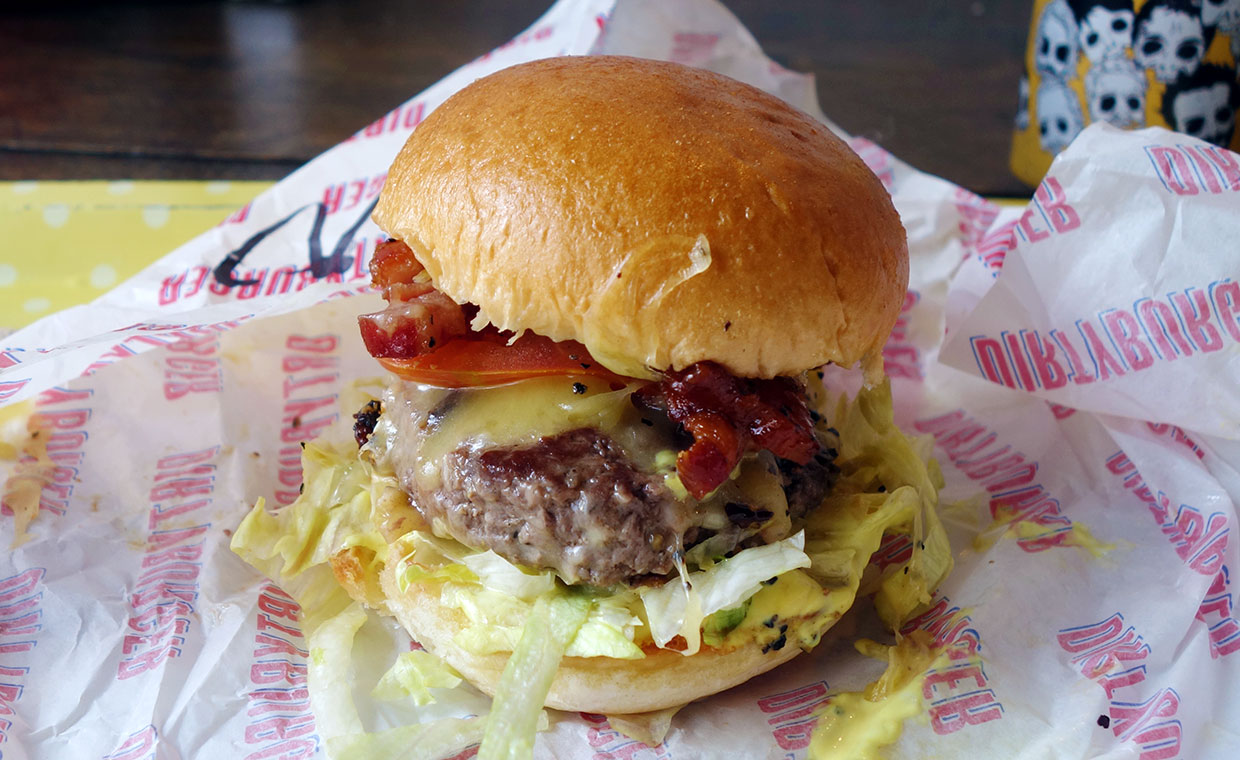 Mittemot de trendiga container-popupbutikerna BOXPARK i Londons Shoreditch ligger Dirty Burger. Lokalen är liten och allt känns medvetet rått och ruffigt. En Dirty Burger i detta sammanhang syftar till en kladdig och osofistikerad burgare, och inte något smutsigt.
Vi beställde en Dirty Bacon Burger, som bestod av en köttpuck, bacon, vällagrad cheddarost, sallad, tomat, gurka och majonnäs. Prismässigt låg den bra till, med en kostnad på under hundralappen. Brödet var rätt bra, men det var kanske lite för stort jämfört med köttet – som i sin tur var lite för välstekt. Den största överraskningen var nog själva baconet, som var jättesalt och jättesött på en och samma gång. Det var även riktigt tjockt, fast ändå lite knaprigt och förvånansvärt lättuggat. Smakerna var bra i den, men då den tog över smakbilden rätt rejält hade det varit bättre med ett par tunnare skivor i stället.
Det finns inte jättemycket att klaga på, men å andra sidan lyckas inte Dirty Burger skilja sig från mängden i Englands huvudstad. Allt är lite ansträngt anspråkslöst, och vi hade gärna sett att de vågade ta lite risker och hitta sin egen identitet. Det kändes kanske inte tillräckligt smutsigt, helt enkelt.
In English
Dirty Burger's conciously rugged interiors in their hip Shoreditch location maybe don't come as a surprise, and their laid-back style encompasses their menu as well. So when we got our Dirty Bacon Burger we weren't sure what to think, seeing as nothing really felt new or risky. The bacon was a treat, with super salty and sweet flavours with lovely crispiness despite the thick cuts, but the bread was a bit too big and the patty was a bit overdone. We weren't really disappointed, but we had expected a bit more – especially in Europe's top burger city.