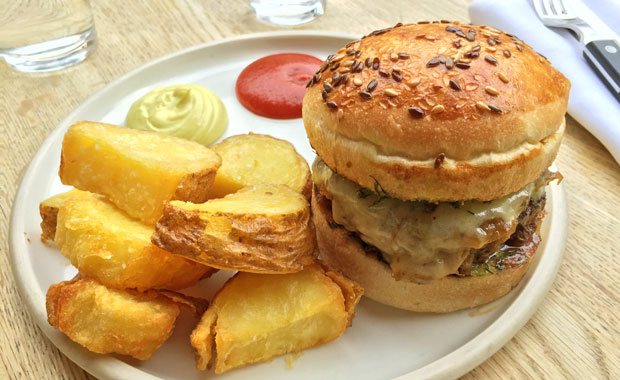 Elliot's Café må kanske inte låta som ett högklassigt hamburgarställe, men faktum är att de har tävlat med sina burgare och har fått ett gott rykte om sig i London.
Den lilla restaurangen ligger precis utanför Borough Market vid London Bridge, och deras hamburgare serveras endast under lunchen. Den kostar 15 pund (knappt 200 kronor) och serveras med en handfull friterade, formpressade och förglömliga klyftor av potatispuré.
Det hängmörade köttet kommer från slaktaren The Ginger Pig på andra sidan gatan, och är måltidens höjdpunkt. Det är perfekt medium rare-stekt och bjuder på en riktig smaksensation. Tyvärr får den kämpa om uppmärksamheten med en massa andra smaker som inte riktigt hör hemma här.
Brödet är en slags brioche som bakats med olivolja i stället för smör. Och trots att det känns mer som en focaccia så kan den suga åt sig alla köttsafter utan att tappa formen. Insidan av brödet har täckts med ett dillsmör, och eftersom det inte har rostats innan tar dillsmaken över. Vi hade föredragit ett vanligt bröd som bara hade rostats istället, så att det inte blev för tungt.
Det är svårt att förstå varför Elliot's Café är så hajpat, för numera finns det många fler förstklassiga burgarställen i London.
In English
The well-hyped Elliot's Café by London Bridge's Bourough Market only serve their cheeseburger during lunch, and at 15 GBP it's quite expensive too. The excellent meat from The Ginger Pig is the real star here, but it's somewhat overpowered by the unnecessary dill butter and the heftiness of the olive oil brioche bun, which feels more like a focaccia than anything else.