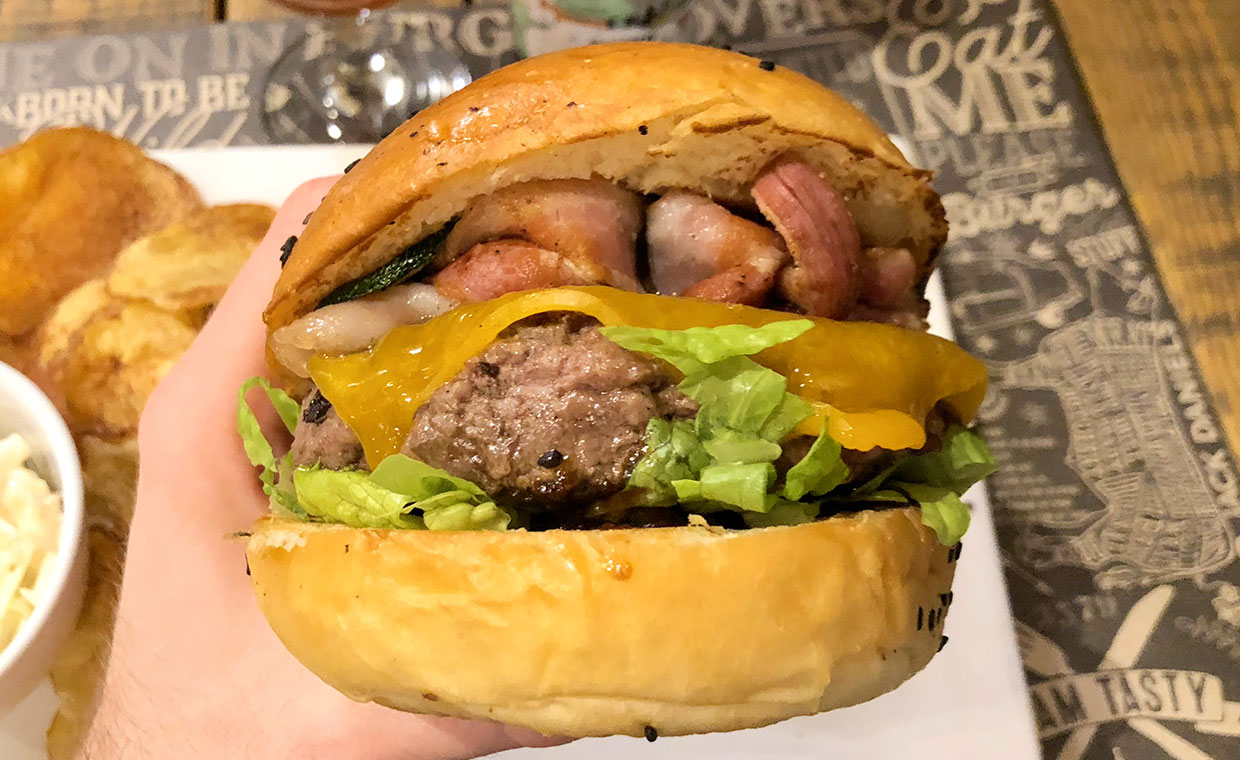 Stadsdelen Erzsébetváros i centrala Budapest kryllar av barer och restauranger, och här ligger även Tuning Bar & Burger som är ett av Ungerns allra mest hajpade burgarhak. Lokalen är fräsch med mysiga detaljer och tegelväggar, och det första vi märkte var den stora projektorbilden på en av väggarna som visade deras stekbord. Du får alltså se din beställning tillagas live, vilket är en riktigt rolig detalj.
Menyn var välfylld med ett tiotal olika burgare, tillsammans med ett par alternativ för vegetarianer och veganer. Vi beställde deras Leicester Burger med sallad, chipotle, rökt bacon, röd cheddar, löksylt och grillad zucchini. Tillbehören vi fick till var tjocka potatischips, coleslaw och barbecuesås, Detta kostade totalt 4 500 forinter (ungefär 150 kronor) vilket är en riktigt saftig prislapp för att vara Budapest.
Burgaren gav ett något slarvigt intryck med sladdrigt bacon och ett bröd som inte hade rostats tillräckligt. Första tuggan bekräftade detta, då brödet var alldeles för tungt och inte hade den där följsamma och stunsiga konsistensen vi hade hoppats på. Löksyltens sötma gifte sig i alla fall fint med angusbiffen och sältan från det rökta baconet. Köttets textur var tyvärr ganska kompakt, men det smakade bra och hade en fin rosa kärna.
Överlag så serverar Tuning Bar & Burger en knappt godkänd burgare, men efter alla lovord och ett så pass högt pris hade vi förväntat oss mer.
In English
Tuning Bar & Burger is a hyped burger joint located in Budapest's Erzsébetváros district. We tried their Leicester Burger for 4500 forints (quite a hefty price tag for Hungarian burgers) with lettuce, chipotle, smoked bacon, red cheddar, onion jam and grilled zucchini. Together with the burger we were served their home-made potato chips, BBQ sauce and coleslaw. The burger looked quite sloppy with undercooked bacon and a big bun that should have been better toasted. The patty made from Angus beef was too compact for our taste, but the flavours were quite good. The onion jam gave everything a nice sweetness, which worked really well together with the smoked bacon. Overall we expected more from this hyped burger joint. The burgers weren't amazing, but if you want to spend a lot of money in Hungary on a burger it will at least ease your burger cravings.