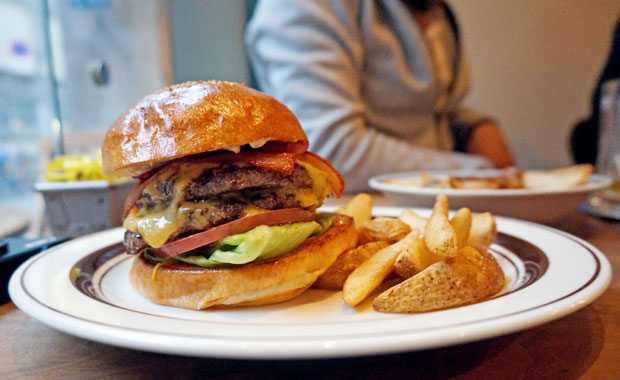 I Osakas amerikaniserade stadsområde Ame-mura ligger hamburgerhaket Critters Burger, som enligt många serverar de bästa burgarna i Kansai-området.
Som de flesta andra restauranger i Japan har Critters Burger en ganska liten lokal med ungefär 20 sittplatser. Lokalen i sig är enkelt inredd med diverse amerikanska detaljer, och du får insyn in till köket vilket skapar en mysig känsla om du är en burgarnörd som vi. Menyn erbjuder en stor variation av olika sorters burgare och tillval, som borde tillfredsställa de allra flesta hungriga besökare.
Tyvärr följer burgarna som serverar här en tråkig japansk trend – köttet är helt genomstekt, och inte medium rare som vi föredrar. Men trots att köttet är genomstekt är det tillräckligt välsmakande för att göra oss nöjda. De andra komponenterna som brödet, baconet och pommes fritesen var vi överlag mycket nöjda med.
Critters Burger hade varit väldigt nära en fullpott om inte köttet hade varit genomstekt samt om de hade haft ett roligare ölutbud. Men med det sagt serverar de en av de bästa burgarna vi har testat i Japan, och kräver ett besök om du befinner dig i området.
In English
Osaka's premier burger joint Critters Burger, located in the Americanised area of Ame-mura, offers one of the best burgers we have tried in Japan. Despite serving burgers with well-done patties instead of medium rare, the burger does everything right and really hits the spot. The bun is fluffy, the ingredients are tasty and the side-orders compliment the burger very well. If you ever visit Osaka you should definitely pay them a visit.