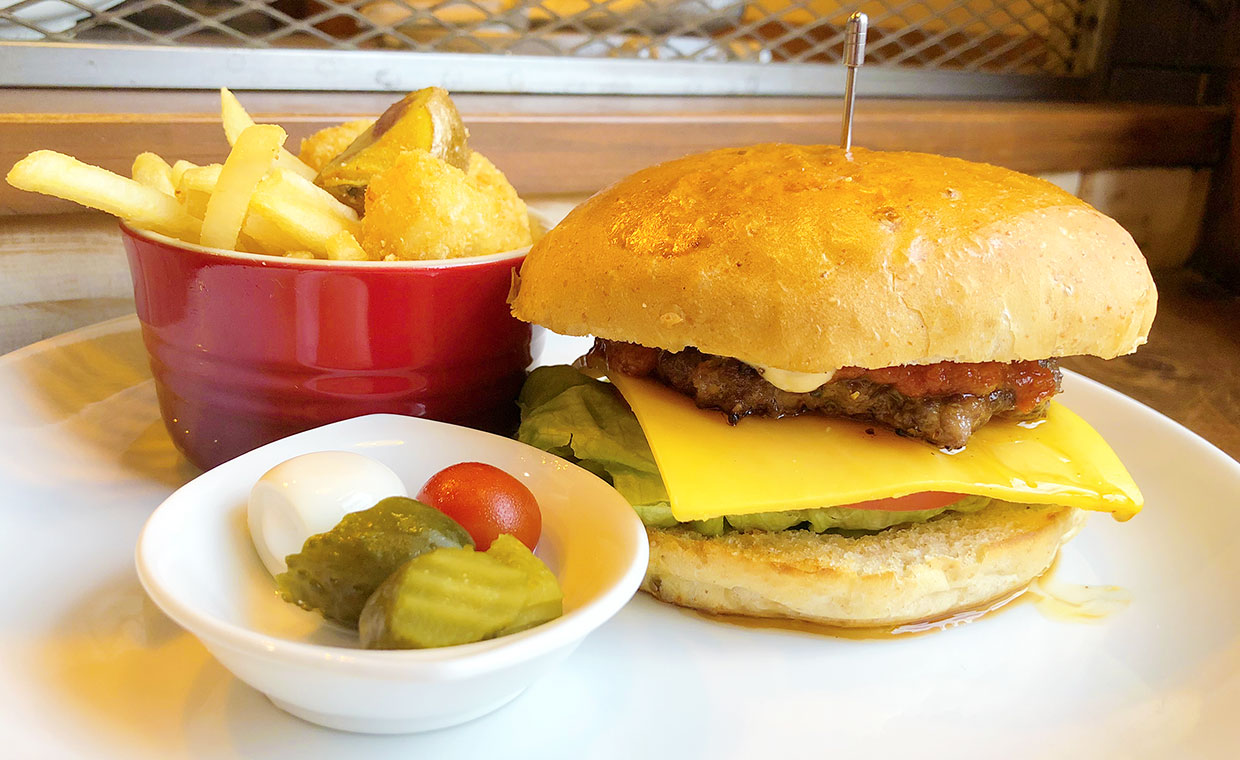 I det livliga nöjes- och shoppingområdet Ikebukuro i Tokyo ligger det lilla burgarhaket East Village. Och när vi säger lilla så menar vi verkligen det, för detta burgarhak har endast sju sittplatser samt en bänk utanför lokalen om det är fint väder.
Deras meny består av elva burgare tillsammans med tillbehör som är prissatta från motsvarande 85 till 135 kronor. Vi beställde en enkel cheeseburgare och satte oss ner i den gemytliga lokalen, och ganska snabbt fick vi burgaren serverade till vårt bord med ett leende av personalen.
Burgaren var en ganska märklig skapelse, med osmält ost som låg under själva köttet. Tillbehören bestod av en skål med potatisbullar, pommes frites och råstekt potatis. Vi fick en annan liten skål med pickles, ett litet picklat ägg samt en körsbärstomat. Detta kändes som en oerhört japansk tolkning av en klassisk cheeseburgare, och pricken över i:et var stålpinnen som de hade borrat genom hela burgaren.
Men trots alla burgarsynder så smakade det lustigt nog riktigt bra. Vi har ingen riktig förklaring till detta, men köttet var gott, den hemmagjorda ketchupen var smakrik och alla varianter av potatis passade väl ihop med måltiden.
Vi har ätit hundratals burgare världen över, men vi blir fortfarande överraskade och det är faktiskt något vi tycker är fantastiskt kul. Så East Village: vi fattar inte riktigt vad ni gör, men vi gillar er attityd.
In English
The small burger joint East Village is located in the entertainment and shopping district Ikebukuro in Tokyo. It only has seven seats, but it's cozy like hell. We ordered their single cheeseburger and we got served one of the weirdest looking burgers we have ever seen. Unmelted cheese under the meat, three types of cooked potatoes and another small bowl containing a pickled egg. Funnily enough, this burger was actually good. The meat had a good taste and texture, the different potatoes were surprisingly suitable and their homemade ketchup was yummy as well. So East Village: we don't understand what you are doing or why you are doing it like this, but we like your attitude.