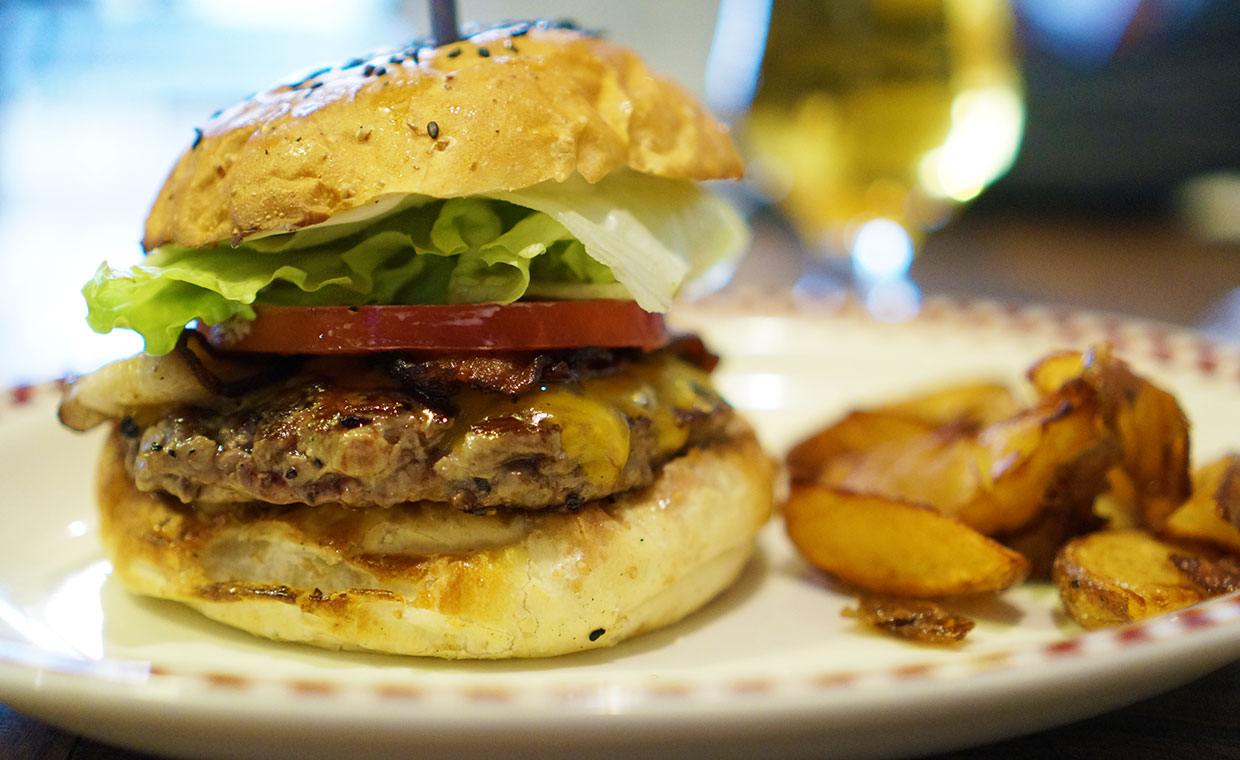 I närheten av Tamachi Station i Tokyo finns det populära burgarhaket Munch's Burger Shack, som började som en liten foodtruck för flera år sedan och idag huserar i en rymlig och trivsam restauranglokal med två våningar.
Menyn innehåller sju olika burgare, däribland den numera klassiska japanska teriyaki-burgaren. Vi valde deras bacon- och ostburgare för 1500 yen (ungefär 120 kronor) med en dryck och pommes frites. En trevlig detalj här var att de frågade om vilket stekgrad vi föredrog, vilket inte alls är helt vanligt i Japan.
Burgaren som serverades på vårt bord var välkomponerad med en godkänd kött- och brödratio. Däremot försämrades det estetiska värdet av en pinne som höll ihop allt, vilket vi inte uppskattade. Själva burgaren hade goda smaker överlag, trots att den hade sina brister. Det första vi märkte när vi började äta var att brödet hade bränts en aning, vilket resulterade i en tunn skorpa. Att underdelen av brödet dessutom  snabbt blev soggigt av köttsafterna var inte heller särskilt kul.
Men det största problemet var att vi upplevde köttpucken som lite seg, förmodligen på grund av att de inte maler sin färs utan hackar den för hand, för att sedan banka den mör med en hammare. Köttet hade smakade gott, men konsistensen och texturen nådde tyvärr inte hela vägen fram.
Trots detta anser vi att Munch's Burger Shack serverar en bra burgare gjorda på högkvalitativa ingredienser, utan att för den sakens skull vara bäst i Tokyo.
In English
Munch's Burger Shack is located near the Tamachi Station in Tokyo, Japan. The restaurant is really nice with a cool vibe and good selection of different burgers. We chose their bacon cheeseburger for 1500 JPY including soda and fries. The burger was well assembled with a good bun to meat ratio, even if we thought that the stick was completely unnecessary. All the flavours were good, but the burger had issues with both the bun and patty. The bun had a hard crust on the top, while the bottom piece was quite soggy. The patty had a chewy texture, probably because they mince the meat by finely chopping it by hand before tenderising it. But despite their shortcomings, Munch's Burger Shack do serve decent burgers. Far from the best in Tokyo, but well worth a visit if you're nearby and have a burger craving.