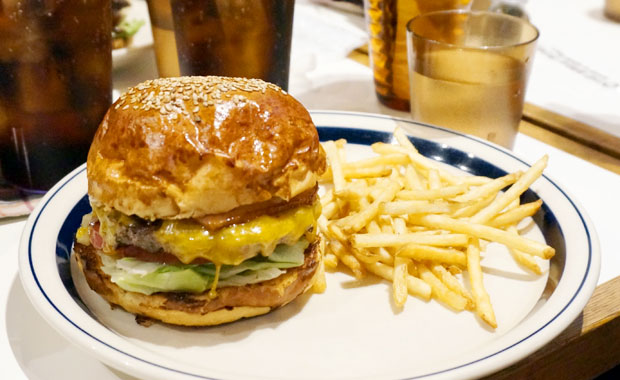 Mitt bland alla trendiga designbutiker i modedistriktet Harajuku ligger det populära och välansedda burgarhaket The Great Burger.
Det är inte ovanligt att man får köa utanför restaurangen på grund av sin popularitet, men det är en relativ smärtfri upplevelse tack vare den duktiga personalen som hela tiden informerar om väntetider och förbereder menyer.
Burgaren vi får serverad är estetiskt tilltalande och det syns att den har behandlats med mycket omsorg. Brödet är riktigt välsmakande och håller ihop burgaren exemplariskt. Även baconet, osten samt salladen håller mycket hög klass, men det är också här våra lovord får ett abrupt slut.
Den näst intill smaklösa köttpucken som serveras i burgaren kan tyvärr inte räddas av superbt bröd eller bra tillbehör. Kontrasten i kvaliteten gör nästan det hela ännu värre. Detta är mycket beklagligt och sänker betygsnivån flera snäpp nedåt.
Vi vill verkligen gilla The Great Burger med sin trevliga personal och charmiga diner-känsla, men när köttet inte håller måttet blir det svårt att rekommendera ett besök.
Gå hellre till Golden Brown som enbart ligger några minuter bort.
In English
The Great Burger in Tokyo's Harajuku district has a great reputation for serving high quality burgers. Our first impression of the burger is very good; the bun is excellent, both the bacon and cheese are really tasty, and the fries are okay. Sadly the tasteless patty ruins most of the experience and turns a potentially great burger into an utterly boring one.