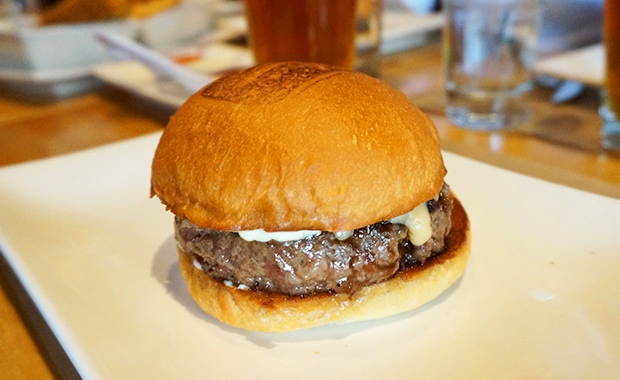 Läs våra åsikter om "Impossible Burger"
Umami Burger har ett starkt fäste på den amerikanska västkusten, och deras smakrika burgare har slagit Kalifornien med häpnad en längre tid. Någorlunda nyligen öppnade de även en restaurang i centrala New York som också är väldigt populär, men vi lyckades ändå få ett bord under lunchrusningen utan att behöva stå i kö.
Vi beställde en originalburgare som innehöll massvis med umamispäckade ingredienser som fokuserade på det femte smaksinnet. Den medium rare-stekta köttpuckens rena smaker framhävdes av allt från shiitakesvamp och ett parmesanflarn till karamelliserad lök och deras egentillverkade ketchup. Det smöriga brödet har dessutom ett inbränt U på ovansidan, vilket är en trevlig signatur.
Som tillbehör beställde vi bland annat friterad saltgurka och lökringar, som båda var fluffiga och riktigt goda. Pommes fritesen på sötpotatis är dock sockersaltade, vilket gjorde dem nästan kvalmiga. Vi kommer att skippa dem i framtiden.
Den enda riktiga nackdelen med Umami Burger är att de starka smakerna kan ta över något, så även om det är gott så blir matupplevelsen inte fantastisk. Trots detta är de väl värda ett besök.
In English
Umami Burger's popularity on the US west coast has spread to New York, and we were very pleased with their Greenwich Village location in New York. Their original burger comes packed with a high density of umami-flavours, and the deep-fried pickles and onion rings were a treat. The flavours can be a little overwelming though, but we highly recommend a visit if you find yourself near one of their restaurants.