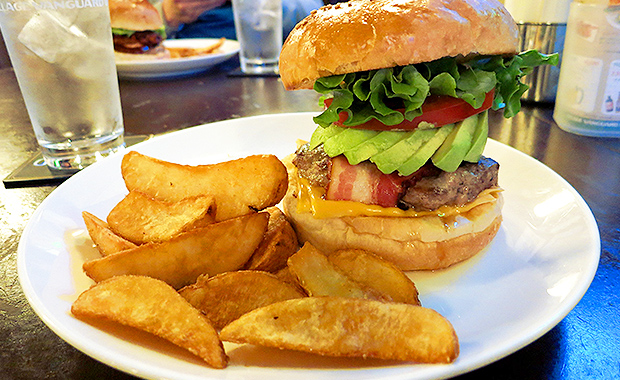 Japanska Village Vanguard är mest kända för att sälja roliga popkulturprylar, men de har andra verksamheter också. En av dem är Village Vanguard Diner i Tokyos Shimokitazawa, och den gemensamma nämnaren här är såklart kärleken till popkultur.
Det vi slogs av när vi blev serverade våra burgare är att någon har ansträngt sig för att den ska se snygg ut. Och det gör den. Vi valde deras ABC-burgare som innehöll avocado, bacon och ost – och blev genast påminda om att bacon här i Japan ofta är tjockt och lite tuggigt. Att osten var american cheese lyfte inte heller upplevelsen. Brödet var lite för stort, men smakade i alla fall ganska gott. Salladen var krispigt god, men tyvärr var själva köttet helt genomstekt.
Trots allt gnäll så blir ändå betyget godkänt. Village Vanguard må ha lagt mer energi på utseendet än på själva ingredienserna, men som helhet serverar de ändå en god burgare. Se bara till att hoppa över baconet.
In English
Village Vanguard Diner in Shimokitazawa, Tokyo is an american diner, or at least it does its best to look the part. The owners are obsessed with pop culture and with visual details, which is very noticable when it comes to their burgers. They may serve beautiful burgers, but unfortunately they don't delivery fully in the taste department. Not bad though, and as always in Japan you ought to give the chewy bacon a miss.