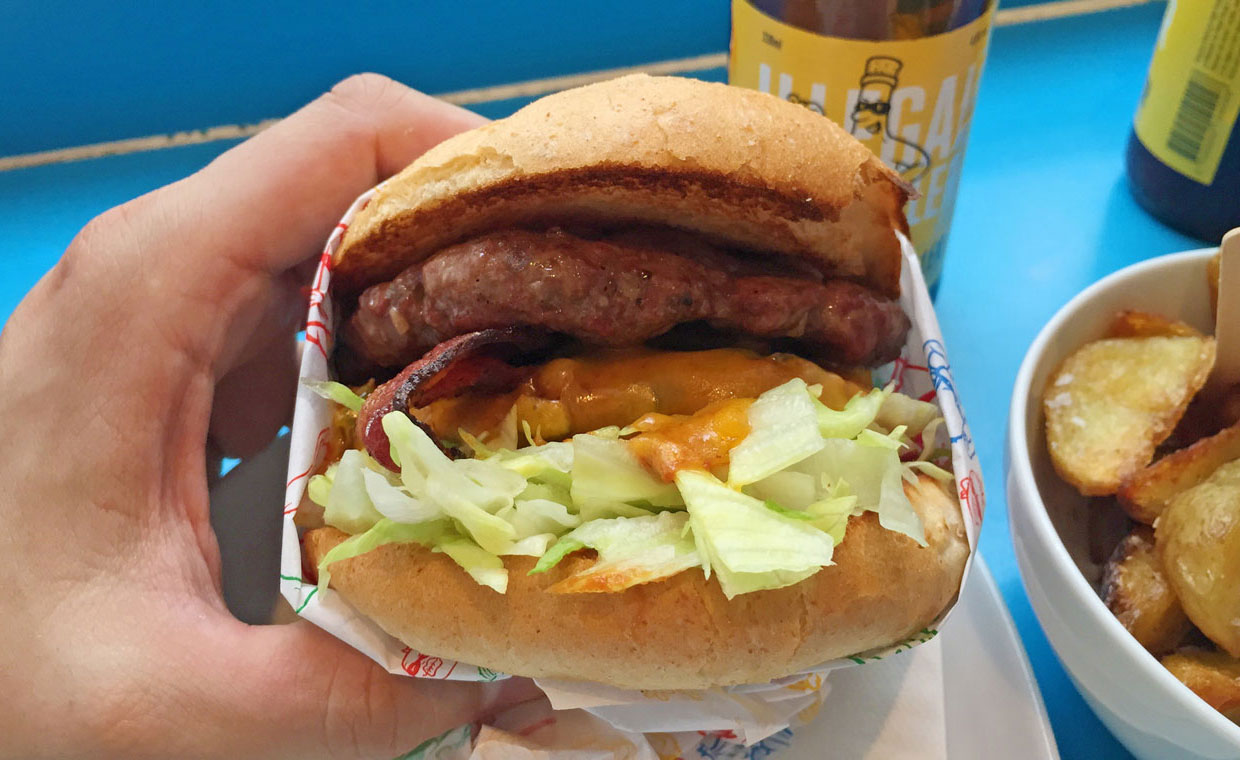 Förväntningarna inför vårt besök på Illegal Burger i Oslo var skyhöga, särskilt då det har sagts att de serverar den bästa burgaren i Norge. En kvart efter att dörrarna slagits upp hade den ytterst lilla restaurangen fyllts helt. Kön sträckte sig hela vägen ut på gatan, men som tur var tog det inte mer än 20 minuter att få ett bord.
Det blev en dubbel Hot Mama Deluxe för 142 norska kronor – en bjässe med 260 gram kött, bacon, cheddar, barbecuesås, sallad, tomat, lök, guacamole, jalapeños och senap. Vi beställde även potatisklyftor med aioli och en specialbryggd och en riktigt god Illegal Burger-öl från danska Mikkeller.
Burgaren såg aptitlig ut, men när tänderna fastnade i det skosuleliknande köttet vid första tuggan kändes det som att vi var med i dolda kameran. Köttet var hårdpressat och tillagat på kolgrillen alldeles för länge. Det var skrattretande dåligt – sämre än vi brukar få på sunkiga gatukök efter tveksamma beslut mitt i natten. Alla andra komponenter var dock godkända, med krämig ost, knaprigt bacon och ganska saftigt bröd. Men de hjälpte tyvärr inte ett dugg.
Vi vet inte hur det här kunde ske, men det finns absolut inga ursäkter för att servera en så här dålig burgare.
In English
We were in high spirits when we visited the jam-packed Illegal Burger, seeing as we've been told that they serve the best burger in Oslo - maybe even Norway. And the double Hot Mama Deluxe with cheese, bacon, jalapeños, barbecue sauce and guacamole looked good. But our hopes were shattered in a second by the hard and overdone patties, which were excruciatingly tough and chewy. No condiments or ingredients in the world can make up for bad meat, and we were left wondering how it all could go so wrong ... and how they have maintained such a good reputation.