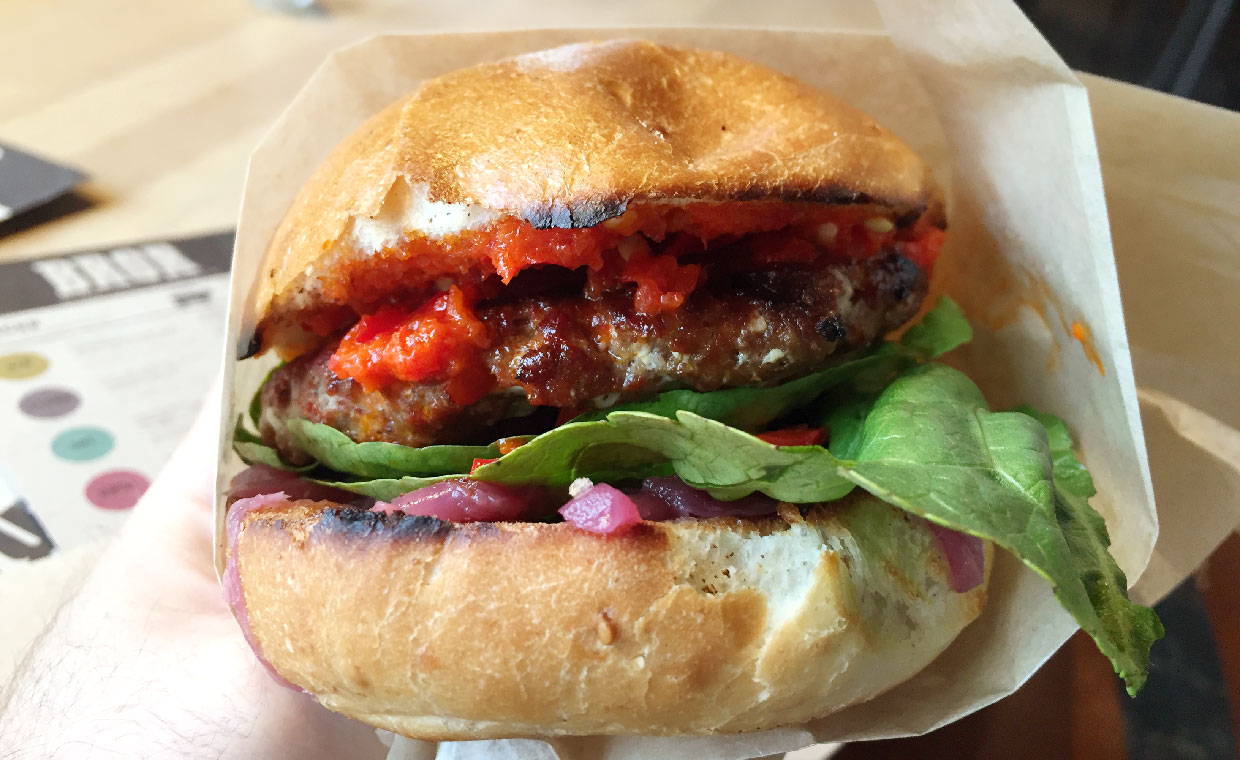 I hjärtat av centrala Trondheim ligger vattenhålet Bror, som bjuder på snyggt och enkelt inrett barhäng. De fokuserar på mexikansk och amerikansk mat och serverar således bland annat både tacos och hamburgare. Hamburgarkonceptet är enkelt; de presenterar fem olika temalagda burgare; Blå med blåmögelost, Sterk med chili, pico de gallo och picklad rödlök och sedan tre ytterligare med namnen Söt, Vit och Bror. Alla burgare går dessutom att få med antingen nötkött, kyckling eller ett vegetariskt alternativ.
Valet föll denna gång på en Sterk tillsammans med pommes frites gjorda på sötpotatis som var härligt frasiga och mjuka samtidigt. Surdegsbrödet förväntade jag mig bli en svårtuggad affär, men det var härligt fluffigt och gav samtidigt gav bra substans till rätten. Köttets textur var tyvärr ickeexisterande då själva köttet föll isär och blev rätt svårätet. Smakerna var dessutom svåra att få ihop då både pico de gallon och den inlagda chilin tog över. Det blev en väldigt syrlig smak som dränkte de övriga smakerna, men som tur var höll sig styrkan på precis rätt nivå.
Tur då att priset helt klart rimligt (särskilt för att vara i Norge), och detta gav mig mersmak för ett återbesök. Då kanske jag provar en mer klassisk Bror.
In English
Bror is located in central Trondheim, and offers mexican and american cuisine (e.g. tacos and burgers). We tried their "Sterk" burger, which had chili, pico de gallo and pickled red onions. The flavours were a bit overpowering and the meat lacked substance, but thankfully the sourdough bun exceeded our expectations and held everything together while still being fluffy and soft. The sweet potato fries were excellent as well. The relatively low prices (especially for Norway, which is notoriously expensive) made us quite happy, and we're happy to return and eat our way through their burger menu.