Aprilskämt: Burgerdudes presenterar: Stockholm Burger Walk
Stockholms första guidade burgartur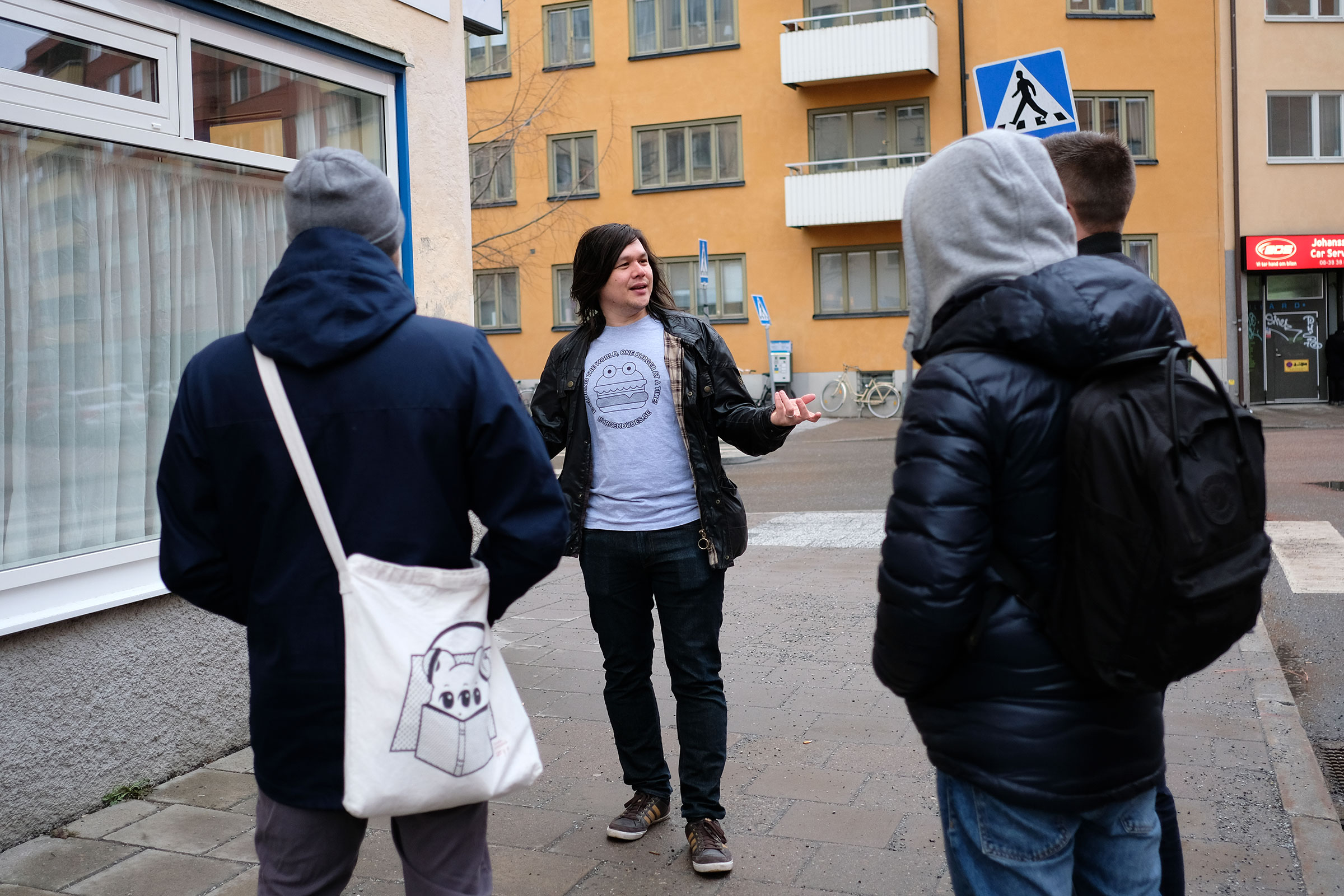 Stockholms burgarscen har aldrig varit mer intressant än vad den är just nu. Runt så gott som varje hörn hittar du ett burgarhak med nymalt kött enligt Blumenthal-metoden, dubbelfriterade pommes frites och smöriga briochebröd. Men hur började egentligen allt?
Vi på Burgerdudes presenterar stolt Stockholm Burger Walk – en guidad vandring i Stockholms händelserika burgarhistoria. Vi har under en lång tid saknat en renodlad stadsvandring som fokuserar på hamburgare, och vi tycker det rent utsagt är en nödvändighet för bevara och dokumentera den ständigt växande burgarkulturen.
Den guidade turen utgår från Hornstull i Stockholm, där vi bland annat kommer att besöka platsen där vi anordnade Stockholms första burgarfestival, Stockholm Burger Fest, förra året med 8000 besökare. Därefter besöker vi det numera nedlagda burgarhaket Sloppy Seconds gamla lokaler, och berättar om deras "Liten men dyr"-slider med foie gras och tryffelcrème.
Vandringen kommer att omfatta samtliga stadsdelar i Stockholm där några av stoppen kommer att vara Flippin' Burgers gamla lokaler som öppnade för 5 år sedan på Kungsholmen, Frick & Hagbergs stammisplats på Sturegatan och historian om Pubologis numera legendariska XXL-tallrik i Gamla Stan.
Detta och mycket mer kan ni förvänta er på Stockholm Burger Walk. Mer information om hur ni kan anmäla er till den första vandringen finns på vårt Instagram-konto (www.instagram.com/stockholmburgerwalk).
Följ Stockholm Burger Walk på Instagram.
Det här var vårt aprilskämt för 2017. Men eftersom det verkar finns ett intresse för en guidad burgartur så ska vi titta på möjligheterna. Man vet aldrig vad som kan hända. Hör av dig om du är intresserad.
In English
Stockholm's burger scene has never been more vibrant than it is today, and you're never very far from a burger joint serving burgers from freshly ground Blumenthal patties, buttery brioche buns and double fried french fries. But how did it all begin?
Burgerdudes proudly present Stockholm Burger Walk – a guided walk through Stockholm's illustrious burger history. We've wanted a guided burger tour for a long while, so it's time for us to step up and preserve the Swedish burger culture.
The tour will start in Hornstull, where we'll visit the location of Stockholm Burger Fest that we arranged last year with 8,000 visitors! We'll pass the now closed Sloppy Seconds on our way to Flippin' Burgers' first location that opened 5 years ago. We'll continue on to the foodtruck Frick & Hagbergs' favourite haunt on Sturegatan, and will tell you about the legendary XXL burger from Pubologi in Gamla Stan.
This is just the tip of the iceberg for Stockholm Burger Walk. More information can be found on our special Instagram account: https://www.instagram.com/stockholmburgerwalk/
We look forward to guiding you on this amazing journey!
—
This was our April Fool's Day joke for 2017. But who know what will happen? Let us know if you're interested 😉