Aprilskämt: McEnnedy American Way Cheeseburger
En färdigpaketerad gourmetburgare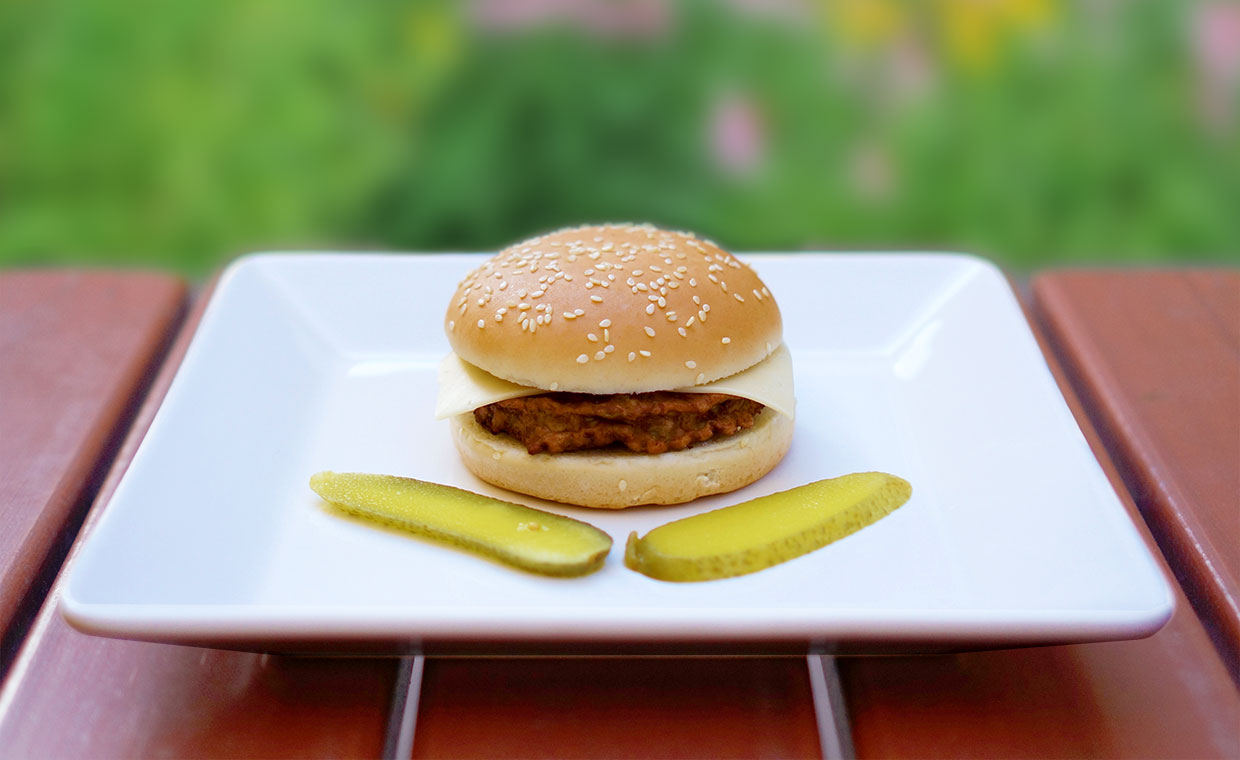 Det här var såklart 2016 års aprilskämt!
Man ska inte döma hunden efter håren, eller boken efter sitt omslag. Det skulle visa sig att man inte ska döma hamburgare efter sitt inköpsställe heller. Men mer om det senare.
Få saker slår en riktigt bra, enkel cheeseburgare. Och den färdigpaketerade cheeseburgaren från Mcennedy är verkligen enkel: bröd, kött och ost. En ärlig burgare utan såser eller picklade grönsaker som kan ta över och dölja eventuella brister. Brödet var klassiskt fluffigt hamburgerbröd med sesamfrön som höll ihop exemplariskt och omfamnade burgaren precis som den skulle.
Köttet var det som stack ut mest mot normen eftersom det visade sig vara fläskkött, snarare än det klassiska nötköttet. Den jämna stekytan och den mjuka konsistensen, nästan helt utan tuggmotstånd, var dock en oväntat sympatisk bekantskap. Det svagaste kortet visade sig vara osten, som inte smälte ordentligt. Men som helhet gifte sig alla delar utmärkt och bjöd på en spännande upplevelse. Och det till ett oslagbart lågt pris!
Så vad var det där med inköpsställe? Mcennedys burgare säljs uteslutande via sin samarbetspartner Lidl, så nästa gång du längtar efter bröd, kött och ost i symbios är det dit du ska styra dina steg, hur otroligt det än låter.
In English
Few things beat a good, simple cheeseburger. And the prepackaged cheeseburger from Mcennedy is really simple: bread, cheese and meat. It's an honest burger with no pickles or sauces that can hide mistakes. The bread was fluffy and stayed together just as it should. The meat turned out to be pork, but it was really soft and worked well with the other parts. The cheese was the weakest link since it didn't melt as expected. But all in all, everything came together surprisingly well and to a very low price. The twist here is that Mcennedy's burgers are available only through their partner Lidl, so however unlikely it may seem - head to Lidl the next time you feel the craving for a great classic cheeseburger.

And in case it isn't clear, this was our April fool's day joke for 2016.