Aprilskämt: Trolli Gummi Burger
Den ultimata burgaren
Nyhet skriven av
Toby Lee
, 01 april 2015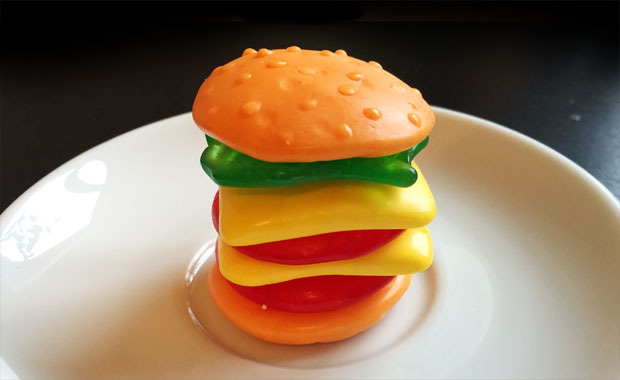 Det här var såklart 2015 års aprilskämt!
Den har ju alltid funnits där; Trolli Gummi Burger. Senast jag åt den var jag i tonåren, och den 50 gram stora burgaren från Trolli var bland det bästa man kunde tänka sig. Nu är det dags att bedöma den mer kritiskt.
Det fluffiga brödet är visserligen inte uppvärmt, men det har penslats såväl carnaubavax som vitt och gult bivax. Kanske är det därför den kapslar in de övriga ingredienserna så bra? Salladen är frisk och klargrönt fräsch, medan den silkeslena osten ligger perfekt ovanpå köttbiten och smakar gott av koschenill och kurkimin. Men det är köttpucken, som tillretts enligt stultus aprilis-metoden, som sticker ut mest, och här märks det att Trolli har lyckats nå perfektion med sin kombination av stärkelsesirap, socker och gelatin.
Trots att det påverkar bun/patty-ration något valde vi att köpa två förpackingar (à 12 kronor) så att vi kunde få ett extra lager kött och ost. Det fulländade vår upplevelse, och vi har svårt att tro att det går att få en bättre burgarupplevelse än denna.
In English
The Trolli Gummi Burger blows us away with its fresh gelatin, syrup and sugar components. The bread is fluffy, the salad is shiny fresh and the stultus aprilis-prepared patty makes this the ultimate burger. Just make sure you buy two, so that you can get an extra layer of meat and cheese.

And in case it isn't abundantly clear, this was our April fool's day joke for 2015.