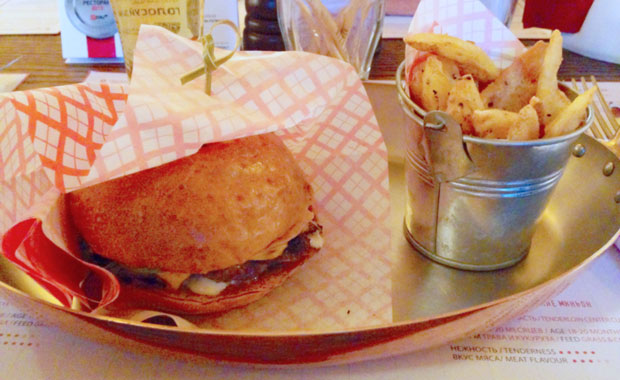 Uppdatering: Beeftro har tyvärr stängt för gott!
Moskva är kanske inte känt för att servera världens bästa burgare, men det finns guldkorn i den ryska huvudstaden. Ett av dessa guldkorn är köttrestaurangen Steak & Burger Bar Beeftro som ligger precis intill Trubnayas tunnelbanestation.
Restaurangen är trivsamt inredd som en gammaldags fransk bistro och deras meny erbjuder ett stort urval av olika kötträtter. Vi valde att testa deras cheeseburgare med Black Angus-kött, sallad, cheddarost, rödlök, tomat och deras egen hamburgerdressing.
Burgaren var mycket välsmakande ur alla avseenden. Det rostade briochebrödet var fantastiskt gott, köttet var medium rare med fin stekyta och pommes fritesen var fint frasiga samt kryddade.
Det enda som hindrar måltiden från att få det högsta betyget är att köttpucken var för liten för vår smak. Men med det sagt rekommenderar vi varmt Beeftro om du befinner dig i Moskva och dess omnejd.
In English
Beeftro is a meat restaurant located near the Trubnaya metro station. Besides serverings traditional steak dishes, they also offer a selection of fine burgers made of Black Angus meat. We tried their cheeseburger and were pleasantly surprised by the tasty bun and the juicy patty. The fries were also very well made. Our only complaint is that the patty should be larger, but apart from that we highly recommend a visit if you are in the Moscow area.