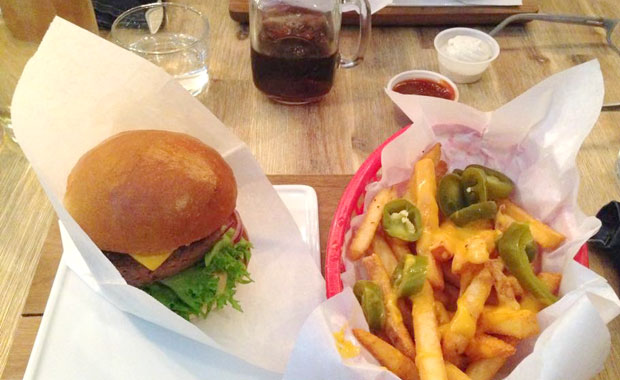 I skuggan av Liseberg vilar en av Göteborgs bästa hemligheter; hamburgarrestaurangen Holy Cow. De har en ljus och fräsch lokal med avskalad miljö utan knussel, samt en servitris som utstrålar glädje.
Här serveras jag en burgare som till sitt yttre ser nästan lite tråkig ut. Den har en ljus och lätt blank bulle med en krispig sallad, inlagd rödlök och en söt bourbonsås. Den ackompanjeras av lökringar som flankeras med riktig ranch-dressing och en härligt rökig barbecuesås. Allt kommer in på en enkel träbricka som passar helt rätt med maten och lokalen.
Brödet visar sig vara härligt luftig, men tyvärr något för lite toastad och känns lite för degig. Köttpucken lyfter dock allt till skyarna. Den är perfekt röd och har en god balans i smakerna. Den picklade rödlöken ihop med bourbonsåsen ger en fin kraftig sötma som bryts av väl av de fräscha grönsakerna. De kunde dock ha hållit tillbaka lite av såsen då brödet blev lite väl uppblött framåt slutet.
Vi vågade dessutom avsluta middagen med en choklad- och jordnötsmörsmilkshake, som verkligen blev pricken över det berömda i:t!
In English
Head behind Liseberg's tivoli area and you'll find Holy Cow, one of Gothenburg's best kept secrets. The burger itself may look pretty plain, but the golden brown bun hides a perfectly grilled patty. Pickled red onions and smokey bourbon and barbecue sauces complete the experience, but the bread quickly becomes a bit soggy and could have been toasted a bit more. Don't miss the chocolate and peanut butter shake!