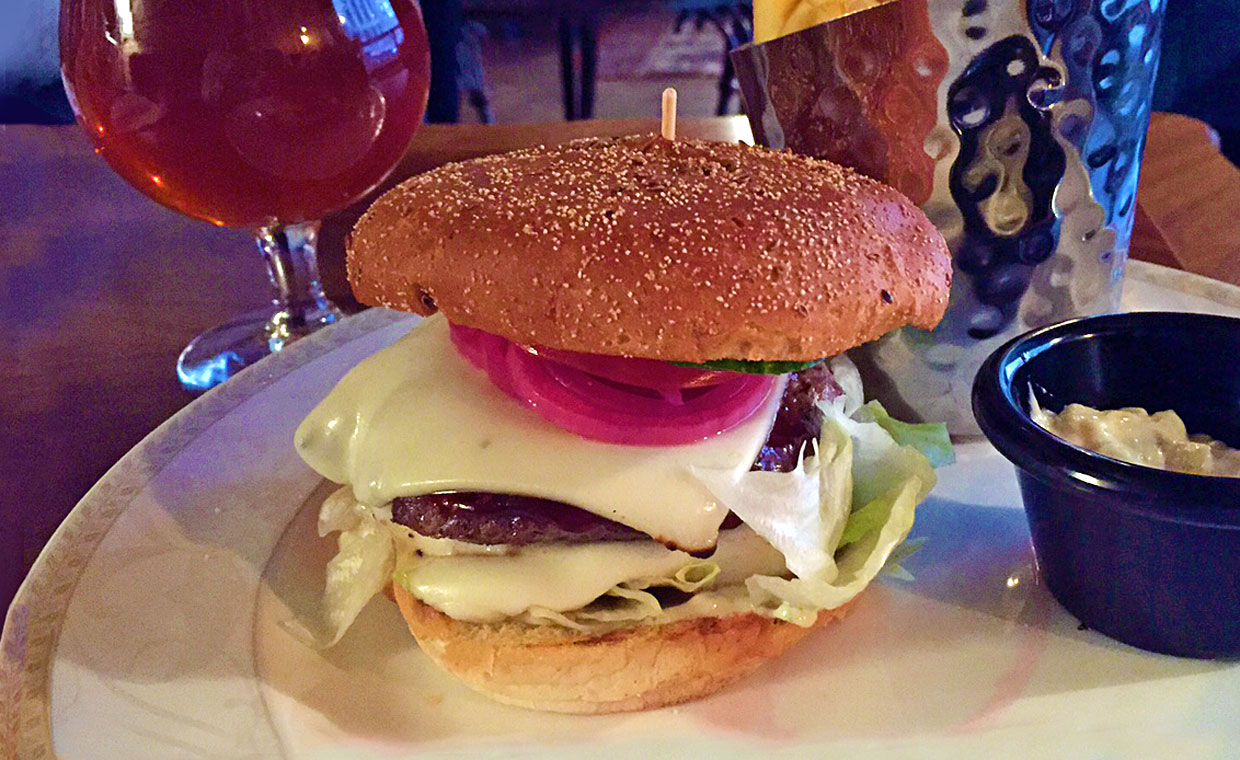 Under vårt besök hos Steampunk Bar i Göteborg beställde vi en "Doktor Elemental's", som kostade 149 kronor i stället för vanliga 189 kronor innan klockan 18. Den innehöll hela 240 gram kött, gurka, tomat, syrad lök, cheddar, tryffeldressing och pommes frites.
Maten serverades snabbt och lite finurligt under en glaskupa, men när den avlägsnades försvann våra glada miner rätt fort. Burgaren innehöll två puckar som staplats på varandra med en pinne tvärs igenom, och den första tuggan avslöjade våra farhågor; gurkan var en vanlig skivad slanggurka som var precis lika kall som tomaten vars kvist fortfarande fanns kvar. Brödet var på gränsen till snustorrt och köttet var helt genomstekt och innehöll dessutom fuskarom i form av liquid smoke.
Vi fick visserligen generöst med ost, men den var lika tam i smaken som den syrade löken. Tryffelmajonnäsen märktes mest, men det var bara för att den innehöll så mycket tryffelolja att den tog över allt. Samma kraftiga majonnäs serverades i en separat dipskål till pommes fritesen som faktiskt var riktigt goda, och de var det enda vi var nöjda med. I det stora hela kan detta vara den dyraste sämsta burgaren jag har provat och du gör helt rätt i att avstå från ett besök.
In English
The Dr. Emmenthal's Burger at Steampunk Bar in Gothenburg fails in all categories. The meat is overcooked, the bread is stale and store-bought and the truffle mayo is overpowering. Sure, you'll get loads of cheese, but it's bland and has hardly been melted. At a price-point of 189 SEK we expect a premium burger, but the only good things about the meal are the fries and the beer. A real disappointment.