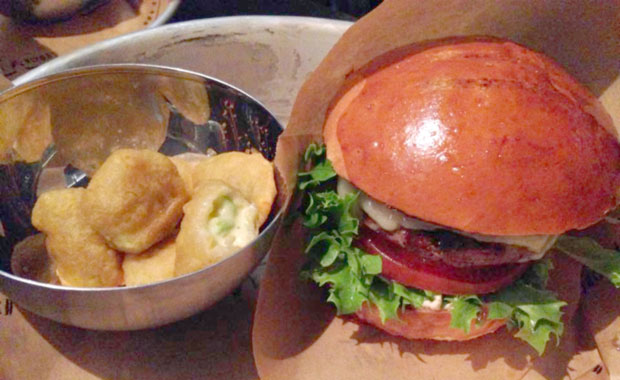 Storgatan tycks vara ett populärt tillhåll för Göteborgs hamburgarställen då man tvärs över avenyn från Butcher's Market hittar Stockyard. Detta ställe är i princip bara ett litet hål i väggen med ett fåtal bord, men det är fantastiskt fint inrett med skinnfällar och djurhudar på väggarna. En kul detalj är take away-luckan som öppnas rätt in i kockens grillplats.
Hamburgaren kommer på en silverbricka omsorgsfullt instoppad i trevlig brunt papper. Bullen glänser fint och har precis rätt konsistens och smakar fluffigt fint. Köttpucken är oerhört precist kryddad och köttsmaken är ordentlig. Tyvärr blev vi inte tillfrågade hur vi ville ha köttet, som serverades medium-well done utan särskilt mycket rosa i mitten. Dressingen är lite för kall vilket ger en liten känsla av smörgås i stället för hamburgare. Grönsakerna är krispiga och fräscha, och jalapenos rundar alltid av fint med lite extra bett.
Kvällens lökringar kunde man önska lite mer av, då de var aningen bleka med för tunt skal. Men smaken var det åtminstone inget fel på. Roligare tillbehör och sideorders i kombination med lättare grillning hade eventuellt lett till ett toppbetyg, så vi hoppas att Stockyard tar till sig av kritiken!
In English
Visitors to the centre of Gothenburg have several good burger joints to choose from nowadays, and Stockyard's prime location on Storgatan cements the city's reputation. We really enjoyed the tiny take away hatch, and the bun was amazingly fluffy. However, the patty is served almost well done and the dressing is refridgerator cold. Stockyard are good, but could do with some improvements.