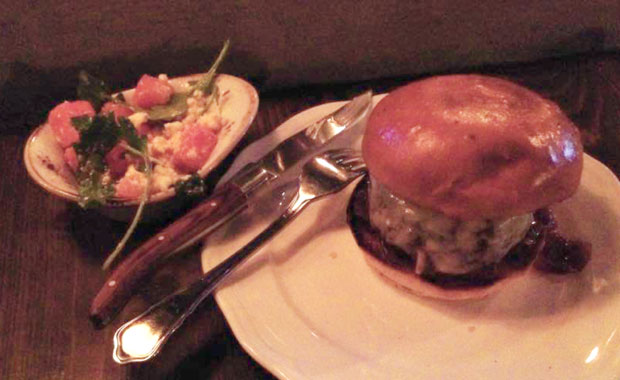 Jag kliver in i en av stans kanske fräckast inredda restauranger. The Barn gör verkligen skäl för sitt namn med sin dunkla belysning samt speglar och tavlor på träväggarna, och tankarna går direkt till en ladugård. Maten serveras på en vanlig tallrik med lite tråkiga grillbestick, men den kylda kopparmuggen fylld med skummande öl är dock en mycket trevlig detalj som höjer upplevelsen. Samma sak gäller för menyn som liknar en gammal tidning.
Första intrycket är att brödet är alldeles för flottigt. Det nästan dryper om det och dessutom har botten blivit för mycket rostad och är nästan svart – inte okej! Jag har valt "Drängen"; en annorlunda men fräsch anrättning med ananas, koriander samt chipotle- och anchochilimajonnäs. Den ger en fin hetta men jag hade gärna sett mer av såsen på den rätt torra burgaren.
Köttpucken är en rejäl best – liten i diameter men rejält tjock. Den är härligt pepprigt kryddad och har tilltagen köttsmak, samt tillagad helt efter önskemål. I övrigt serveras den utan några andra grönsaker. Till detta väljer jag lökringar som kompletterar burgaren på ett fint sätt, trots att skalet är aningen för tjockt.
The Barn get ett gott första intryck, synd bara att presentationen inte räcker ända fram.
In English
The Barn is probably the best designed burger restaurant in Gothenburg, with plenty of attention to detail. It's a pity that they haven't shown the food the same love, as our bread was slightly burnt resulting in a sligthly dry meal. However, the meat itself was expertly cooked, and the onion rings were a treat.