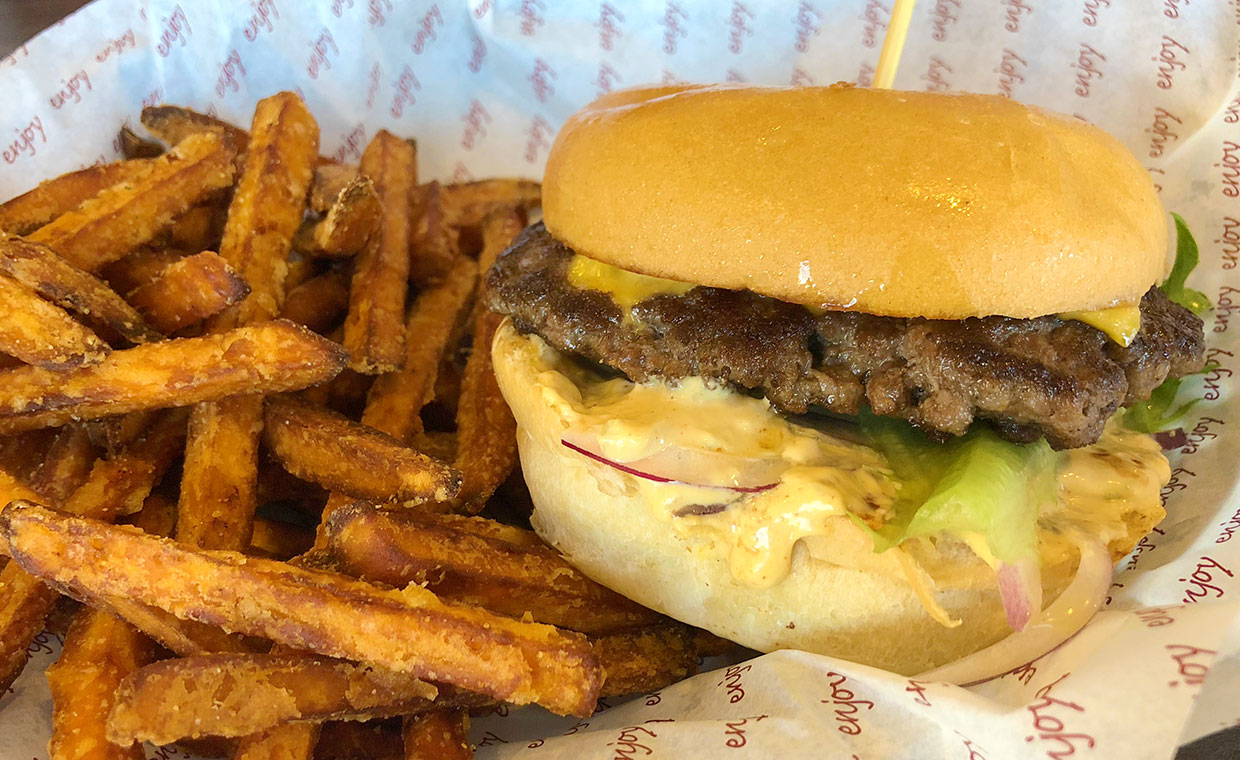 Brooklyn Burger öppnade sin första restaurang i Huskvarna 2014, och har sedan dess expanderat med ytterligare tre restauranger i Jönköping och Skövde. Vi besökte deras originalrestaurang i Huskvarna som hade en gemytlig, men något anspråkslös, inredning.
Alla deras köttburgare görs av 100 % svenskt nötkött från Skövdes slakteri som mals dagligen, och även brödet bakas dagligen av ett lokalt bageri. Det fanns med andra ord alla förutsättningar för att få en riktigt bra burgare, särskilt då de var generöst prissatta. Vi beställde en Brooklyn Original med dressing, rödlök, tomat, sallad och cheddarost för 84 kronor, samt sötpotatispommesfrites för 35 kronor extra.
Men burgaren som serverades på vårt bord av den vänliga personalen gav tyvärr ett riktigt slarvigt första intryck. Först och främst så hade den spetsats med en pinne – ett grepp vi nog aldrig kommer att förstå oss på – och dressingen hade runnit ut längst sidorna och gjorde allt kladdig redan innan vi hunnit ta vår första tugga. När vi väl började äta insåg vi direkt att dressingen var för söt, och att salladen mest bestod av hårda skaft som gjorde burgaren besvärlig att äta. Det kändes även som att köttet skulle ha mått bättre av en högre fetthalt, och det var tyvärr även ganska kompakt och hade behövt en mer märkbar stekyta.
Brooklyn Burger kändes därför inte alls särskilt bra, och burgarna led av alltför många slarvfel för vi ska kunna rekommendera dem.
In English
Brooklyn Burger first opened 2014 in Huskvarna, Sweden, and today they have three more burger joints in Jönköping and Skövde. We ordered their Brooklyn Original burger with dressing, red onions, tomato, lettuce and cheddar cheese for 84 SEK. The burger gave a sloppy first impression with the wooden stick holding everything together, and the overflowing dressing made a mess of our meal before it even began. The dressing was way too sweet for our taste, and the lettuce mostly consisted of the hard end pieces which messed up the texture. The patty also lacked a satisfactory crust and was quite compact and dry. Taking all of these mistakes into consideration makes it difficult for us to recommend a visit to Brooklyn Burger.