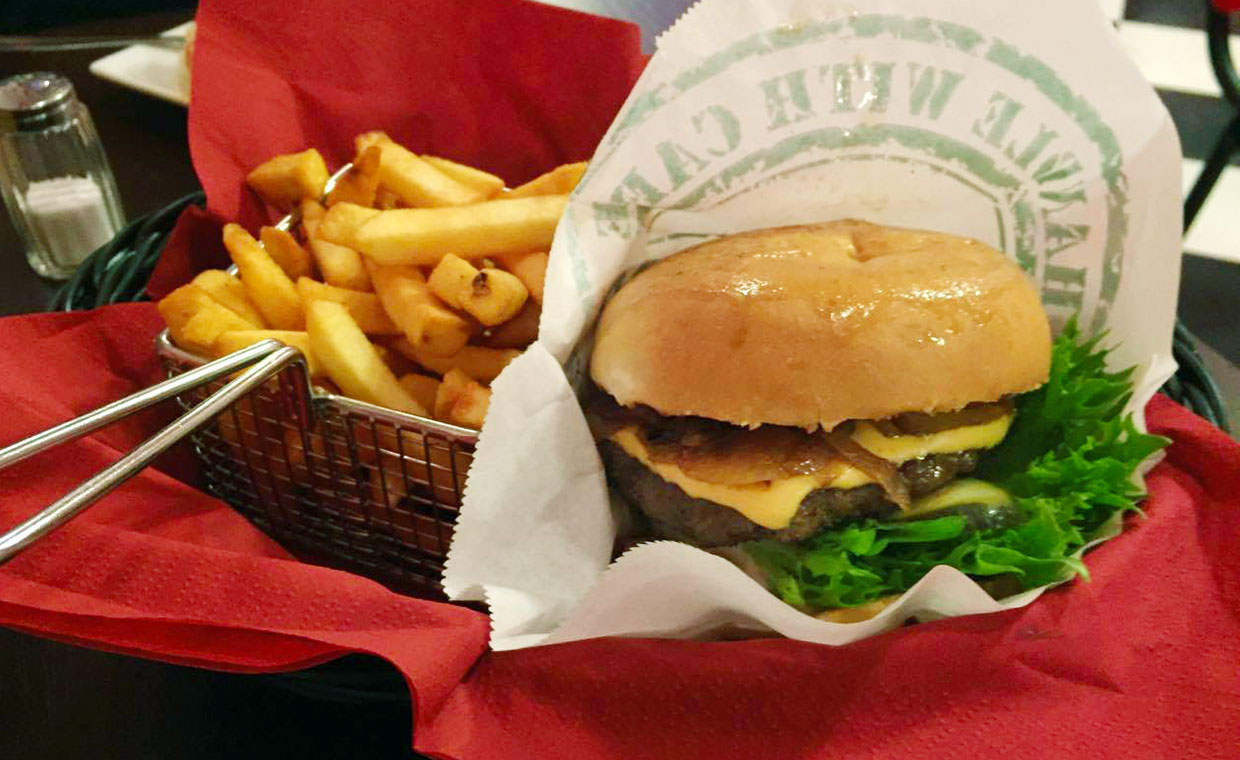 Det relativt nyöppnade burgarstället Burger House ligger centralt beläget i Karlstad. Restaurangen är inredd som en typisk amerikansk 50-talsdiner, och vi lockas in av den ljusa belysningen och den mycket röda inredningen.
På menyn serveras allt från klassiska BBQ-burgare till heta mexikanska alternativ. De erbjuder dessutom vegetariska burgare, fiskburgare, och kycklingburgare. Kvällens val föll på en klassisk bacon cheese-variant med cheddar, grillad gullök, pickles, sallad, tomat och dressing.
Burgaren, gjord på svensk högrev, serverades lite för överstekt. Men den var ändå ganska lättäten och kändes inte på något sätt kompakt eller seg. Själva köttpucken måste däremot ha förberetts vid något tidigare tillfälle, och den färdigformade pucken fick oss att tro att det kanske rörde sig om ett halvfabrikat. Men den oron visade sig vara obefogad, då köttet smakade riktigt bra. Det var alldeles rätt kryddat med lagom sälta och skönt pepprigt utan någon extravagans. Brödet var tyvärr lite för luftigt och saknade substans. Det försvann lite för lätt, vilket var synd då smakerna var goda. Dessutom kunde det ha varit något mer rostat då det kändes snäppet för kallt ihop med dressingen.
Men det bästa var ändå priset; för 95 kronor ingår både pommes frites och dricka. Vi återkommer gärna i framtiden.
In English
Centrally located in Karlstad, Burger House welcomes us with its 50's diner interiors. We ordered the bacon cheese burger, and despite the patty looking prefabricated it actually tasted really good. The bun could have been a bit more toasted, as it was a bit too cold and soft. Thankfully everything else was quite good, and thanks to the low price we'll gladly return in the future.