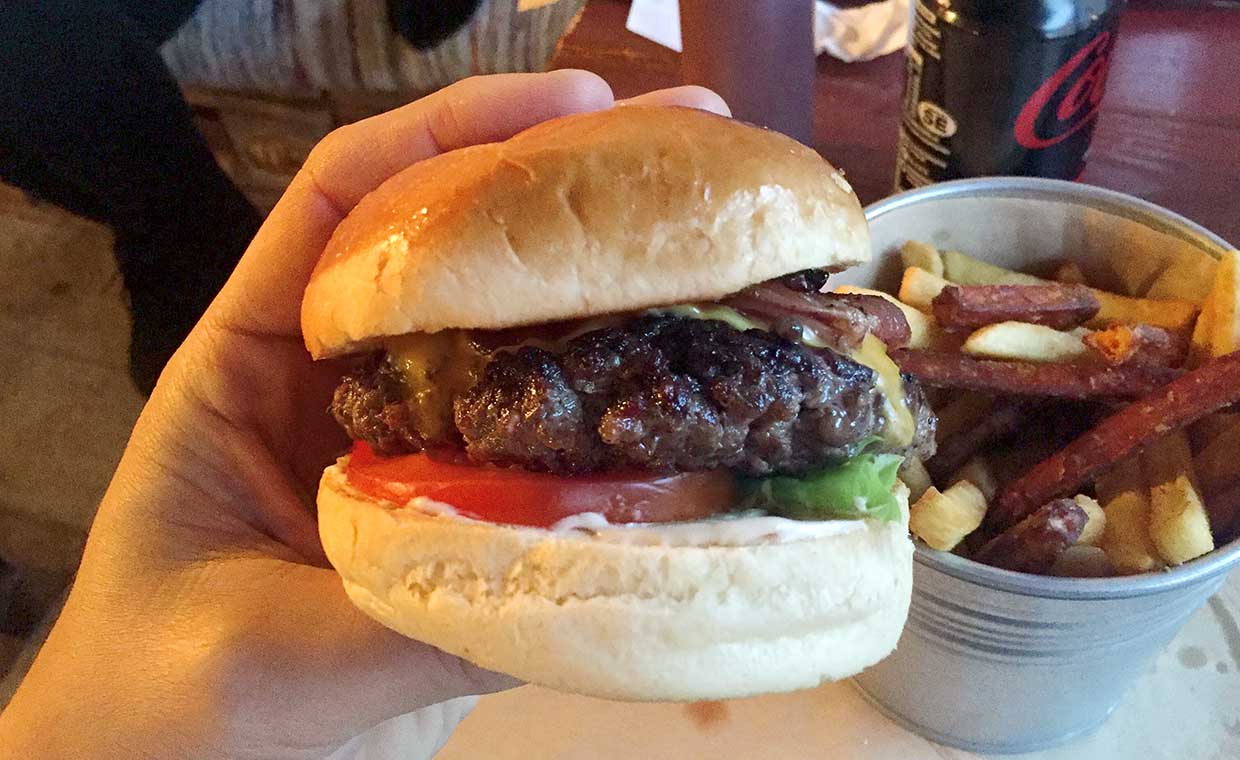 Street Friends finns numera i Karlstad och Kungsbacka, och förväntningarna var riktigt höga när vi klev in i den nyöppnade restaurangen i utkanten av Karlstad. Inredningen var enkelt avskalad med obehandlat trä och industrilampor, och beställningarna gjordes vid baren. Trots att den stora lokalen var halvfull gick det föredömligt fort att få beställningen.
Deras Smokey Bourbon-burgare serverades med pommes frites och kostade precis under hundra kronor, och bestod av en burgare med ostsås, bacon, grönsaker och en barbecuesås. Den lilla hamburgaren hade ett uppvärmt och studsigt bröd som smakade utmärkt, men köttpucken gjord på 120 gram högrev var dessvärre genomstekt trots löftet om att den skulle serveras medium. Det var synd då köttet inte heller smakade så mycket alls, fast det berodde nog mest på att det inte var särskilt välkryddat. Även den vegetariska burgaren saknade smak, så kryddningen är kanske något av ett problem i köket.
Den rikliga portionen med pommes frites bestod av både vanlig potatis och sötpotatis. De var krispigt friterade och riktigt goda – förmodligen det bästa med hela måltiden. Street Friends serverar en ganska god burgare, något som inte hör till vanligheterna i Värmland, men de är långt ifrån exceptionella.
In English
Street Friends can be found in several Swedish cities nowadays, and our expectations were high when we visited their newly opened restaurant outside Karlstad. The Smokey Bourbon burger with cheese sauce, bbq sauce, bacon and vegetables was served in a warm and fluffy bun, but the 120 gram patty was overcooked and quite bland. The vegetarian burger was underseasoned too. However, the fries were excellent, with a mix of regular and sweet potatoes. We'd definitely come back just for them.