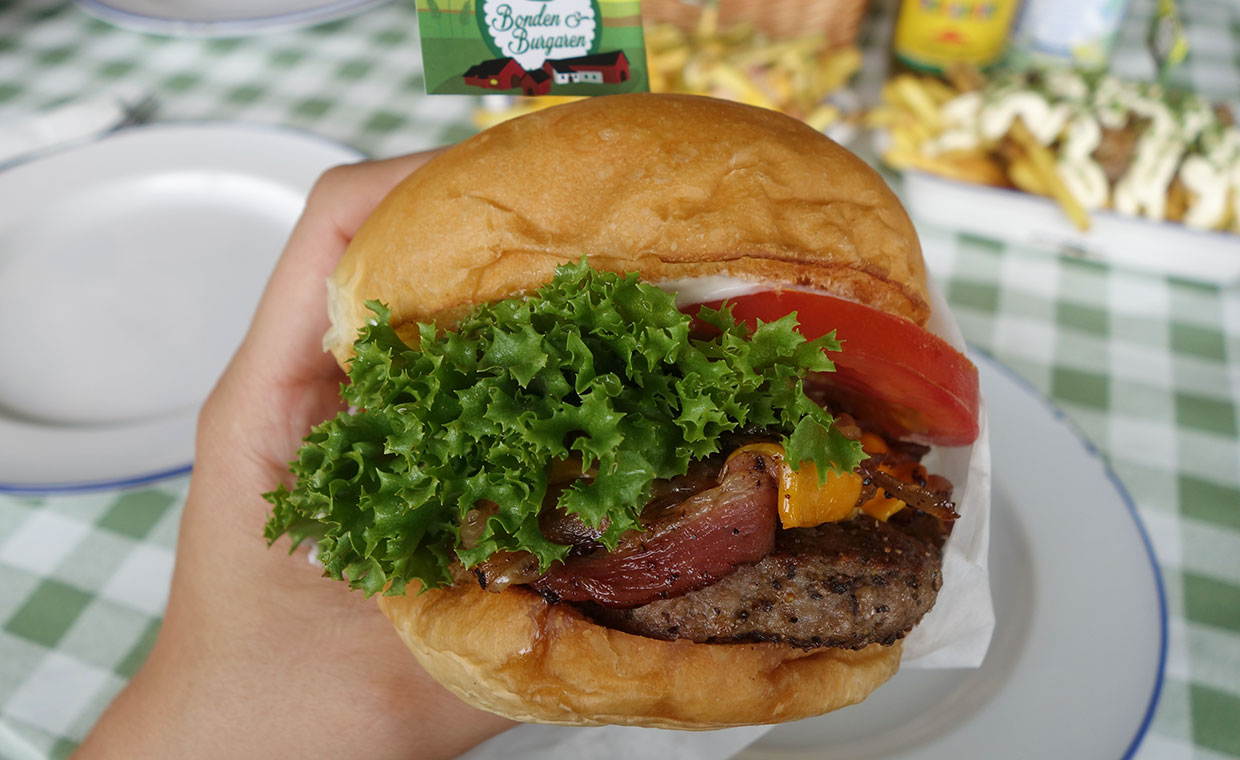 I Roslagen, tio mil nordväst om Stockholm, ligger Väddö Gårdsmejeri. Här tillverkas bland annat Sveriges första ekologiska burgarcheddar, som är en solklar favorit hos oss på Burgerdudes. Utöver en charmig gårdsbutik och glassrestaurangen Bondens Glasskalas med egenproducerad ekologisk glass så driver de även Bonden & Burgaren under sommarhalvåret, med en fantastisk utsikt över Väddö kanal. Här serveras burgare som i princip endast innehåller när- eller egenproducerade ingredienser.
Vi slog till på stort och beställde in en Starke drängen med ost, sallad, rödlök, jalapeños och chilimajonnäs samt en Perras bacon med ost, bacon, sallad, tomat, stekt gul lök och majonnäs. Till detta tog vi båda deras specialpommesfrites; en med ostsås, jalapeños och rödlök samt en med majonnäs och stekt gul lök.
Burgarna serverades i ett mjukt och lagom fluffigt bröd från Bagarbröderna i Norrtälje, och de såg goda ut – den stora mängden krispsallad till trots. Tyvärr visade det sig att köttet inte höll måttet. Eftersom de använder sin egen boskap (som slaktas på vintern) så har köttet varit fryst, och köttpuckarna på 140 gram var tuggiga med en torr kant och ett vattnigt inre. Det kändes extra tråkigt då de andra komponenterna var riktigt bra. Pommes fritesen var krispiga och härligt indränkta i sina toppings, och den ljuvliga cheddarosten stal rampljuset så fort den fick tillfälle.
Vi rekommenderar ändå ett besök på Bonden & Burgaren när vädret är fint, om det kläms in mellan gårdsbutiken och glassrestaurangen. Håll koll på deras webbplats för öppettiderna bara, då de främst har öppet på sommaren.
In English
Bonden & Burgaren is located about 100 km to the north-east of Stockholm, and is run by Väddö Gårdsmejeri - who are better known in the hamburger community as the producers of Sweden's first organic burger cheddar. Their burger restaurant is located next to their ice-cream restaurant, with an amazing view of the picturesque Väddö Channel. The burger itself is made from their own cattle, but since the patties had been frozen they were chewy and quite watery. This was a let-down, since the other components were really good. We especially liked both their loaded fries - one with organic cheese sauce, jalapeños and red onion and the other with fried onions and mayo. The real stars here was their organic cheddar and the amazing surroundings. Just make sure that they're open if you want to make the trip, since they're mainly open during the summer months.