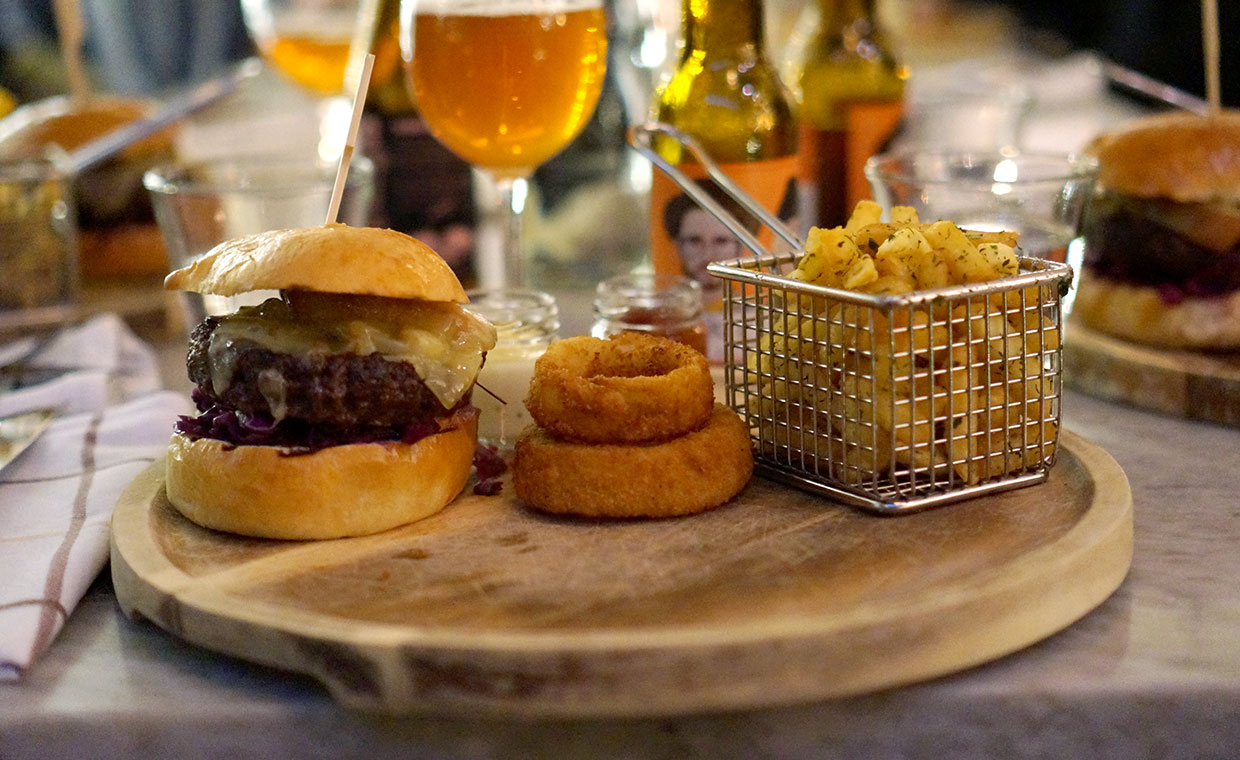 American Table Brasserie ingår i en serie restaurangkoncept som Marcus Samuelsson har tagit fram åt hotellkedjan Clarion. Restaurangerna finns i flera städer i både Sverige och Norge och burgarna ser lite olika ut mellan ställena.
Med endast en burgare på vår meny var valet enkelt. AT-burgaren innehöll bacon, konfiterad lök, Monterrey Jack-ost och regnbågscoleslaw. Den serverades i ett briochebröd tillsammans med lökringar, dillkryddade pommes, tryffelmajonnäs och en hemgjord ketchup. Såväl beskrivningen som prislappen, 230 kronor för måltiden, skvallrar om att det här är en burgare i gourmetkategorin vilket höjer våra krav på kvaliteten.
De hade gjort mycket rätt med våra burgare; pucken var gjord enligt Blumenthal-metoden och hade en vackert rosa kärna, osten var smält och täckte köttet bra och brödet var snyggt rostat och höll ihop hela vägen. Pommes fritesen och tryffelmajonnäsen var dessutom riktigt goda, men där slutar lovsången. Allt var snyggt och rätt, men det smakade väldigt lite. Baconet, eller snarare sidfläsket då det var tjockt och mjukt, dominerade smakmässigt. Osten, löken och köttet stod mest för textur.
Det var en burgare gjord efter konstens alla regler, men den smakfest som skulle motiverat priset blev inställd och betyget stannar därför i mitten av skalan.
In English
American Table Brasserie is part of a chain of restaurants called Kitchen & Table that are located in Clarion Hotels all over Sweden and Norway. The burgers differ between locations. The one we were served was called The AT Burger and included bacon, Monterrey Jack cheese, onion confit and pickled slaw. It came in an brioche bun and with dill seasoned fries, truffle mayo and homemade ketchup. The patty was prepared using the Blumenthal method and was served with a pink center. Everything looked really good and the toasted bun made good job holding everything together, but unfortunately it lacked in flavour. The thick slice of bacon completely took over and the other parts were mostly reduced to adding texture. At a hefty 230 SEK price tag we expected more.