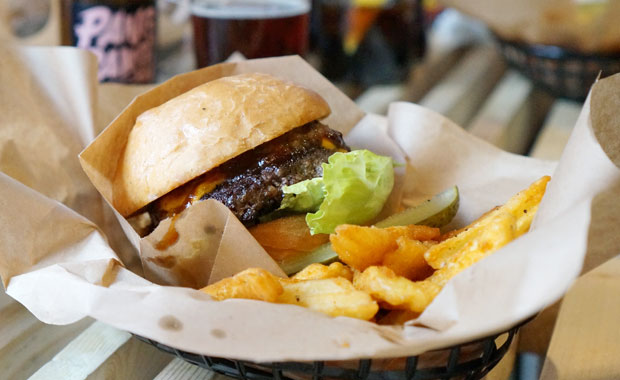 Uppdatering: Bar and Burgers på Erstagatan 21 har nu stängt för gott!
Bar and Burgers öppnade sin första restaurang i Nynäshamn 2013 och har nu tagit steget in till Stockholm, närmare bestämt till den östra sidan av Södermalm – i Matkulturs gamla lokaler på Erstagatan. Inredningen försöker vara lite industriell med blandade stolar, lastpallsbord och exponerade armeringsjärn i gluggarna mellan bar- och restaurangdelarna.
Barbecueburgaren vi beställde bestod av en cheeseburgare på 180 gram med extra ost och en stor mängd barbecuesås. Och allt var gott, med smakrikt kött, färsk sallad och ett bra bröd. Däremot hade Bar and Burgers tjänat på att lägga mer energi på detaljerna, då stekytan var väldigt blandad över en och samma burgare och brödet gärna kunde ha fått lite stekyta på insidan för att få en chans att stå emot den stora mängden sås.
Vi blev även positivt överraskade av pommes fritesen, som trots att de köpts in frysta faktiskt var välfriterade med god kryddning. Ölsortimentet var dessutom riktigt bra, och det märks att personalen har ett stort ölintresse baserat på de välgrundade råden som gavs.
In English
Please note that Bar and Burgers on Erstagatan has closed for good — After opening their first restaurant in Nynäshamn, Bar and Burgers have now expanded to the Södermalm district in Stockholm. They serve flavoursome burgers and a great selection of beer, but we are a bit concerned with the certain details, such as the unevenly fried patties and the slightly soggy bread. Despite being of the frozen variety, the fries are properly deep-fried and seasoned.