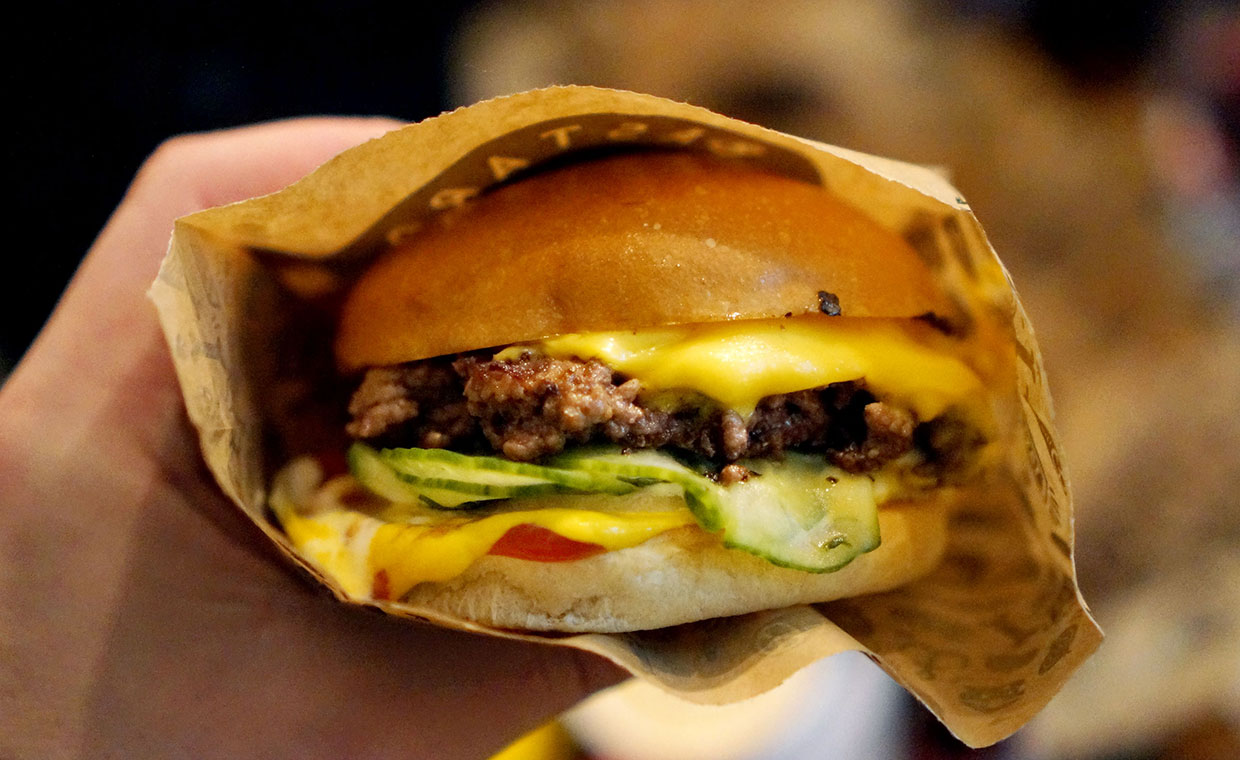 Bastard Burgers öppnade i Luleå under hösten 2016, och sedan dess har de startat en foodtruck i samma stad samt öppnat en handfull restauranger norr om Stockholm. De använder kvalitetskött från lokala gårdar och nybakat bröd från lokala bagerier, och det har varit ett sant nöje att testa båda deras restauranger.
Den varierade menyn innehåller flera klockrena alternativ, och de har även en månadens burgare och en vegetarisk med Oumph. Valet föll på signaturburgaren "The Bastard" med dillpickles, dubbla cheddarskivor, ketchup, senap, majonnäs och rå lök. En enkelburgare på 120 gram kostar 109 kronor, och en dubbelburgare kostar 149 kronor. På lunchen ingår både dryck och pommes frites på gjord på sötpotatis, vilket är riktigt prisvärt.
Burgaren såg riktigt lovande ut när den serverades, med ordentliga mängder smält cheddar. Den passade utmärkt i handen, och brödet var fint uppvärmt. Den första tuggan smakade helt fantastiskt, med en löst packad och rosastekt köttpuck med massor av köttsafter. Den var varsamt kryddad och levde i symbios med det fluffiga brödet som passade köttpuckens storlek perfekt. Vi uppskattade även de andra ingredienserna, mycket för att ingen av dem tog överhanden. Cheddarosten var krämigt god, men den egeninlagda gurkan var den riktiga stjärnan med en förtrollande söt skärpa. Sötpotatispommesfritesen var dessutom otroligt välfriterad och hade en nästan karamelliserad smak. Vid andra besök har vi testat tryffelburgaren "London" och barbecuesås- och baconburgaren "Texas", som smakade minst lika gott.
I dagsläget är det ingen tvekan om att Bastard Burgers serverar de godaste burgarna norr om Stockholm.
In English
Bastard Burgers serve the best burgers north of Stockholm right now! We've visited both their restaurant in Luleå and their newly opened venture in central Uppsala, and were equally impressed. A burger costs 109 SEK for a single 120 gram patty and 149 for a double patty, and during their lunch hours you'll also get sweet potato fries and a drink. Their signature "The Bastard" burger had double cheese, mayo, ketchup, mustard and their homemade pickles, and one bite was all it took for us to be hooked. The loosely packed meat was perfectly pink with loads of juices and subtle seasoning. The bread was super soft and had a perfect patty to bun ratio, and the entire meal was well balanced. We really liked the cheese, but the dill pickles were without a doubt the star of the condiments. The sweet potato fries were just as excellent, deep fried until they were almost caramellized. We've also tried their truffle burger and their bacon bbq burger, and they were just as good as we'd hoped. We can't wait to come back for another taste.