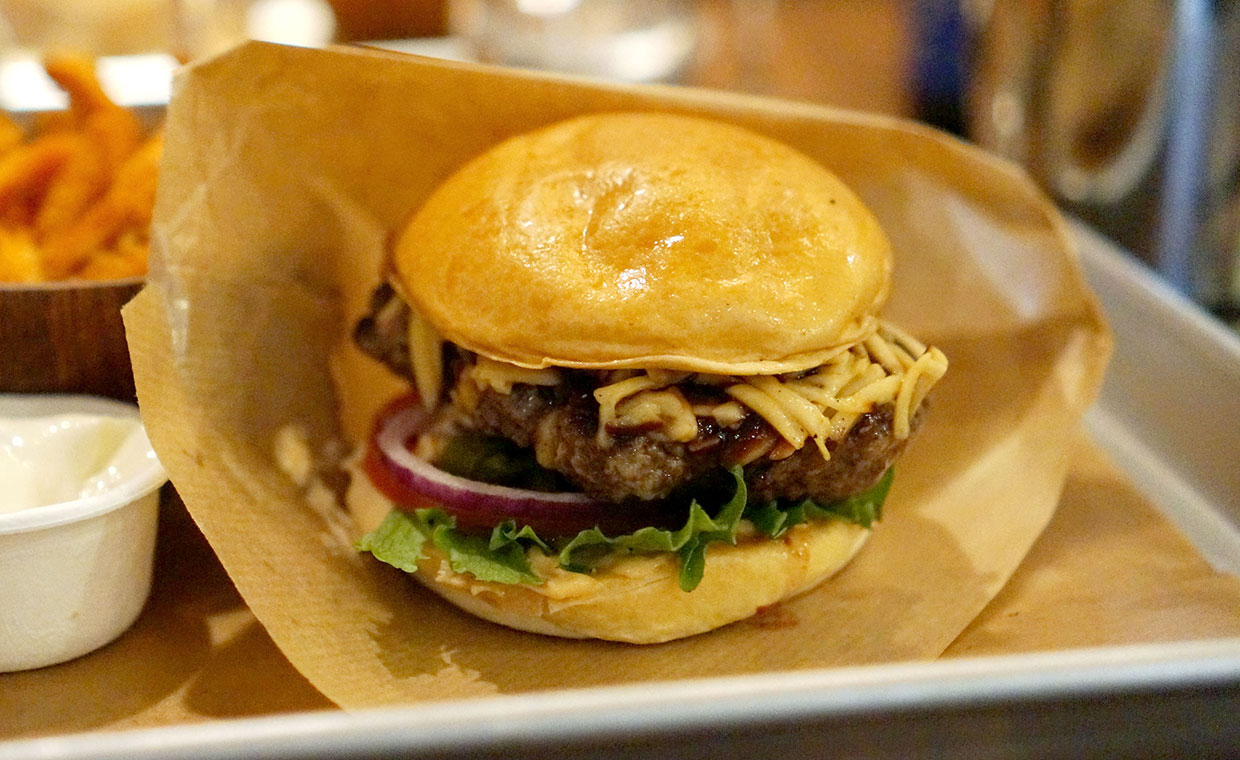 Burgarkonkurrensen runt Nytorget i Stockholm är stark, och aktörer som Lily's Burger, Prime Burger och Burger Shack har försökt muta in sina revir de senaste åren. Nykomlingen BC Burgers öppnade i början av juli 2017 i Mississippi Inns gamla lokaler, och erbjuder en meny med en handfull vanliga burgare och nästan lika många vegetariska diton.
Vi beställde deras heta burgare vid namn Skåningen, som kostade 140 kronor, och bestod av en 160-gramspuck, chipotledressing, jalapeños, rökt ost, sallad, tomat och lök. Den serverades i ett egenbakat potatisbröd. Köttpucken var utmärkt mediumstekt och välkryddad med salt och peppar, med mycket köttsmak. Köttet var väldigt saftigt, vilket dessvärre resulterade i att det undre brödet blev lite väl blött trots att det faktiskt hade värmts på. Annars var brödet föredömligt fluffigt och lätt att trycka ihop. Chipotledressingen och jalapeños gav en del hetta, och den rökta osten var smakrik utan att ta över. Tyvärr så var inte osten skivad utan riven, så även om den hade smält så blev texturen lite udda.
De vegetariska alternativen imponerade, särskilt Bonden med en smakrik puck gjord på champinjoner och cheddarost. Sötpotatispommesfritesen var också väldigt goda, men 40 kronor plus 15 kronor extra för en dippsås är ganska dyrt.
Prisbilden till trots så serverar BC Burgers faktiskt de bästa burgarna kring Nytorget just nu.
In English
BC Burgers have recently opened in a coveted venue just by the trendy Nytorget square in Stockholm's Södermalm district, and have already shown that they can handle the competition. Their spicy Skåningen burger for 140 SEK, with a 160 gram patty, chipotle dressing, jalapeños, smoked cheese, salad, tomato and onions was served in a squishy potato roll. The meat was excellently seasoned and medium rare, and tasted really good. It was a bit too juicy though, resulting in the bottom bun becoming drenched in juices. We enjoyed the spicy condiments and the flavour from the smoked cheese, but since it was shredded rather than sliced the texture was a bit off. Their veggie burgers (especially the Bonden with a cheese and mushroom patty) were a treat, and the sweet potato fries were excellent – even if they were quite expensive. Nevertheless, BC Burgers currently serve the best burgers by Nytorget.