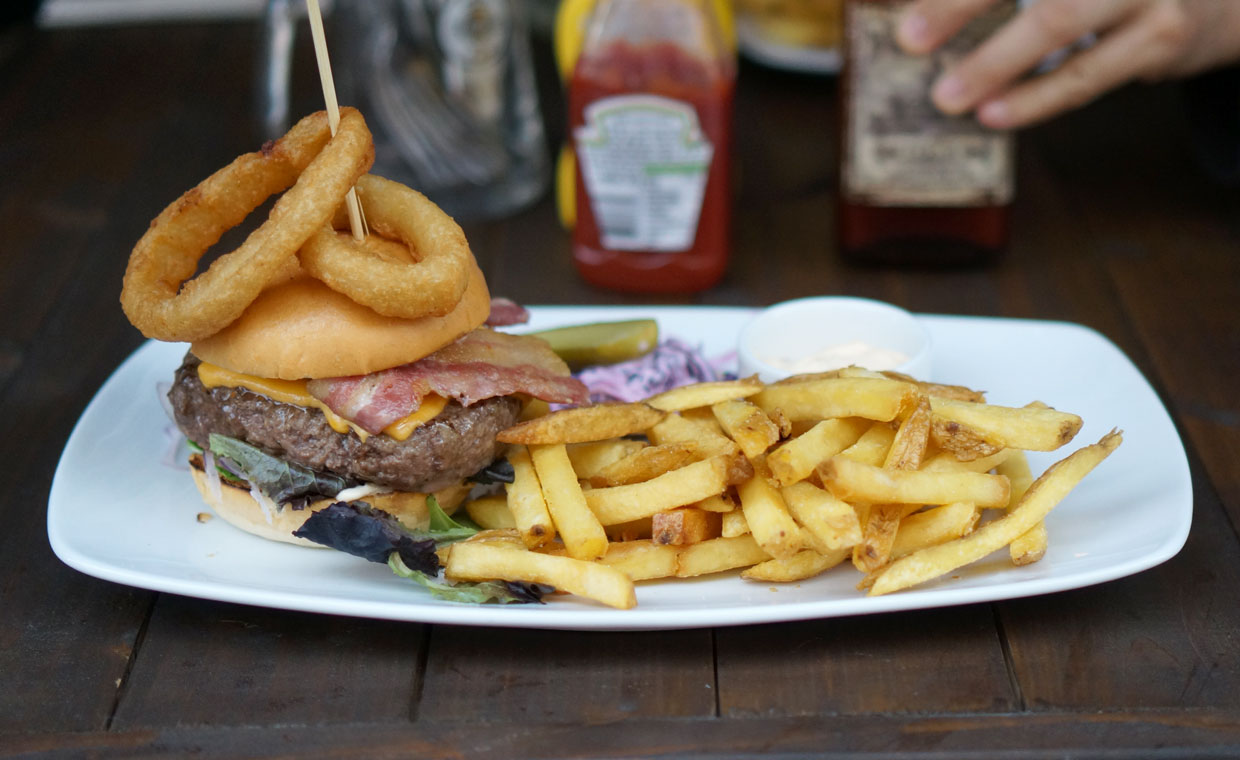 Brickyard öppnade under våren 2015, och deras rymliga lokaler mitt i Stockholms Sofo-distrikt är tidstypiskt inredda med avskalade tegelväggar med trä- och metalldetaljer. De ligger även vägg i vägg med Lily's Burger (3/5), som nyligen öppnade sin andra restaurang.
Men det verkar inte vara något som påverkat Brickyards menyval. Burgarens väl tilltagna köttpuck består av 200 gram bringa och högrev, och serveras i ett klart godkänt och uppvärmt bröd. Köttet har en distinkt välhängd smak, men borde ha fått lite mer kryddning och stekts lite mindre. Vi beställde våra burgare medium rare, men resultatet var närmare medium-well done.
Vi anser att burgare ska ätas med händerna, men detta krävde en hel del ansträngning då det var en enda stor köttbit, omgärdad av drösvis med andra ingredienser. Osten var inte helt smält och baconet var lite väl tuggigt, vilket försvårade ätupplevelsen något.
Husets burgare kostar 169 kronor, vilket inledningsvis låter på tok för dyrt. Men portionen är rejäl, med 200 gram kött, en gedigen mängd grovhuggna pommes frites, ett par lökringar, coleslaw och en aioli. Du går definitivt inte härifrån hungrig, och om du har stor aptit är skillnaden mellan Brickyard och grannrestaurangen Lily's knappt märkbar.
In English
Located in the always-trendy SoFo area in Stockholm, the relatively newly opened Brickyard lies next door to Lily's Burger's second restaurant. They're just about equally good, and the 200 gram patty has a distinctly meaty flavour. Despite the burger being slightly too big to eat with any resemblance of dignity, we'd definitely recommend Brickyard's massive portion sizes if you're really hungry.