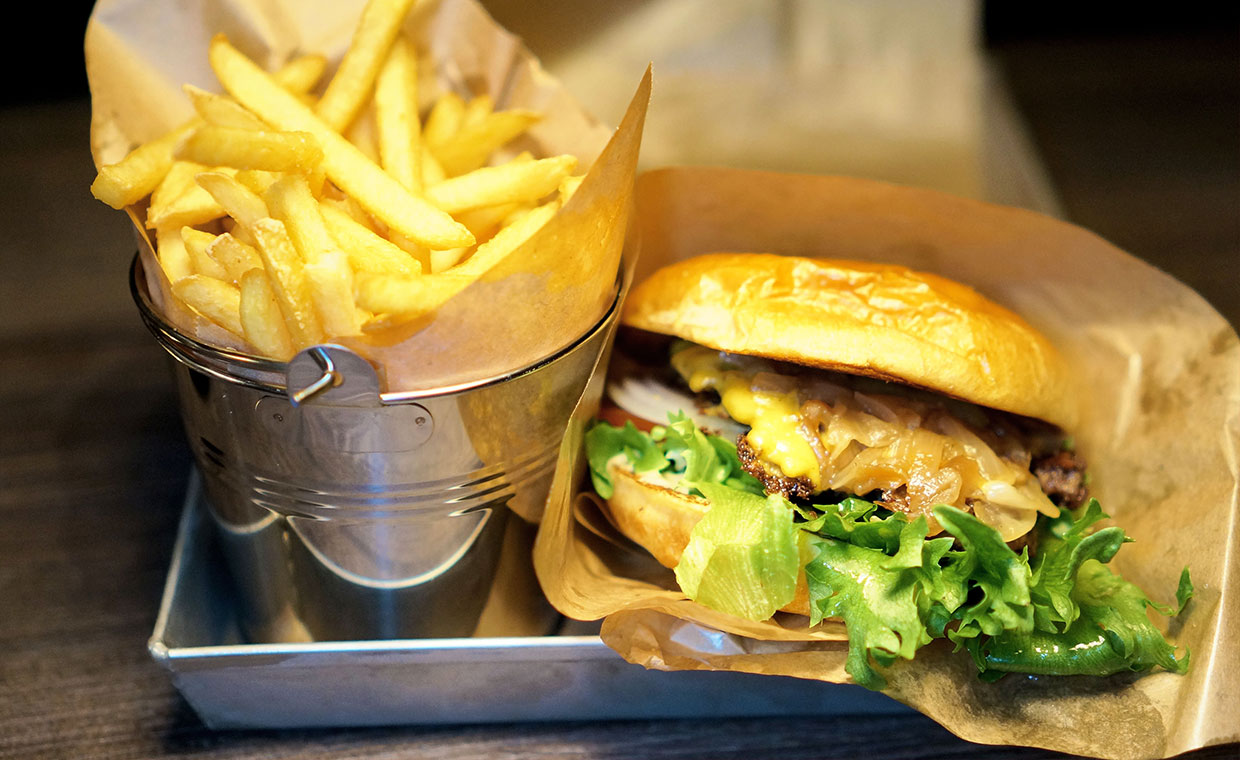 Brödernas by BankOmat ligger vid Liljeholmskajen precis utanför Stockholms innerstad, och bjuder på en vacker utsikt över vattnet. Restaurangen öppnade under våren 2018 och har förutom burgare även fokus på pizza.
Menyn erbjöd fem olika burgare, samt en vegetarisk och en burgare för barn. Vi beställde en "Greven" med cheddarost, rökt bacon och majonnäs samt en "Kajen" med cheddarost, karamelliserad lök och chipotlemajonnäs. Båda innehöll dessutom sallad, tomat och skivad silverlök. Priset låg på 90 kronor för en enkel burgare på 100 gram och 120 kronor för en dubbel på 200 gram.
När vi fick in burgarna så var det två saker som direkt stack lite i ögonen. Bröden var lite fuktiga av kondens, och så hade alla komponenter åkt åt olika håll så att burgaren började glida isär. Men efter en snabb rekonstruktion från vår sida kändes det bättre. Köttet såg mycket bra ut; det var smashat med en vacker och lite knaprig crust och smakade både gott och saftigt. Baconet imponerade också med bra sälta och textur.
Det generösa lagret med kylskåpskalla grönsaker gjorde oss däremot väldigt besvikna, men den ganska kalla och mosiga karamelliserade löken smakade i alla fall helt okej. Men precis som den försiktiga chipotlemajonnäsen så lyfte den inte heller måltiden.
Måltiden blev något av en bergochdalbana, med ett gott kött som slogs mot en handfull irritationsmoment. Vi lämnade ändå Brödernas övertygade om att det finns potential till riktigt bra burgare här, så länge de fokuserar mer på burgaren som helhet.
In English
Brödernas by BankOmat are located by Liljeholmskajen, just south of Stockholm's Södermalm district, with a beautiful view of the water. Besides burgers, they also focus on pizza. We tried their Greven burger with cheddar, smoked bacon and mayo, and a Kajen burger with cheddar, caramellised onions and chipotle mayo. All burgers came with lettuce, tomato and sliced white onions as well, and cost 90 SEK for a single (100 grams) and 120 SEK for a double (200 grams). The burgers were presented kinda sloppy, with cold vegetables and slightly damp buns. But the actual patties were really good – smashed with a beautifully crunchy crust and nice meaty flavours. The bacon also impressed us with its good flavour and texture. The rest of the toppings were ok, but didn't really lift the meal. Despite the obvious mistakes, we're still hopeful that Brödernas by BankOmat will realise their potential and step their burger game up.