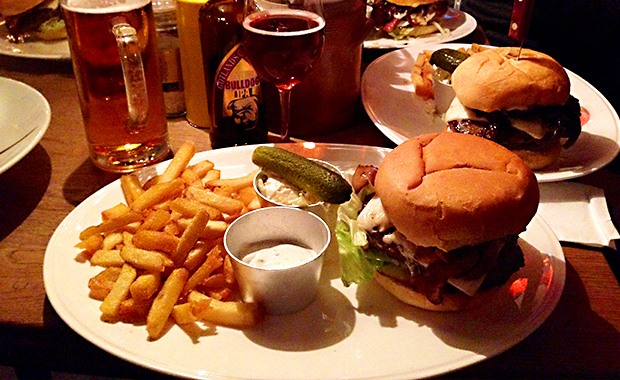 Uppdatering: Broken Sthlm har nu stängt för gott. Men deras restaurang i Åre finns kvar som innan.
Hamburgarhaket Broken öppnade sin Stockholmsfilial under 2012 och har sedan dess varit mycket välbesökt. Men är det burgarnas kvalitet eller det centrala läget som lockar besökarna?
På deras meny finner vi nio mer eller mindre kreativa burgare. Burgaren som kanske sticker ut allra mest är deras "Mega Burger", en dubbelburgare som serveras med lökringar ovanpå brödet samt bearnaisesås. Men som de puritaner vi är så testade vi deras bacon- och cheddarostburgare istället.
Burgaren som serverades på vårt bord var tyvärr inte alls särskilt bra och led av många grundläggande misstag. Brödet var ovärmt, salladen kylskåpskall och nötköttet var helt genomstekt samt nästintill smaklöst. Att burgaren sedan knappt höll ihop och började ramla isär medan vi åt den var bara beklagligt. Till burgaren kan vi även addera tråkiga pommes frites och en intetsägande coleslaw.
Prislappen för denna måltid landade på 145 kronor, och det enda vi kan konstatera efter vårt besök var att man åtminstone blev mätt.
In English
The burger joint Broken opened their Stockholm restaurant in 2012 and have since then attracted a large clientele in the Swedish capital. But when we tried their burgers we quickly became disappointed and questioned their popularity. The burger had a surprising amount of rookie mistakes that can't be forgiven. The mistakes included a cold bun, a dry and nearly tasteless patty together with ice cold lettuce. The other components was mediocre at best. Broken indeed.