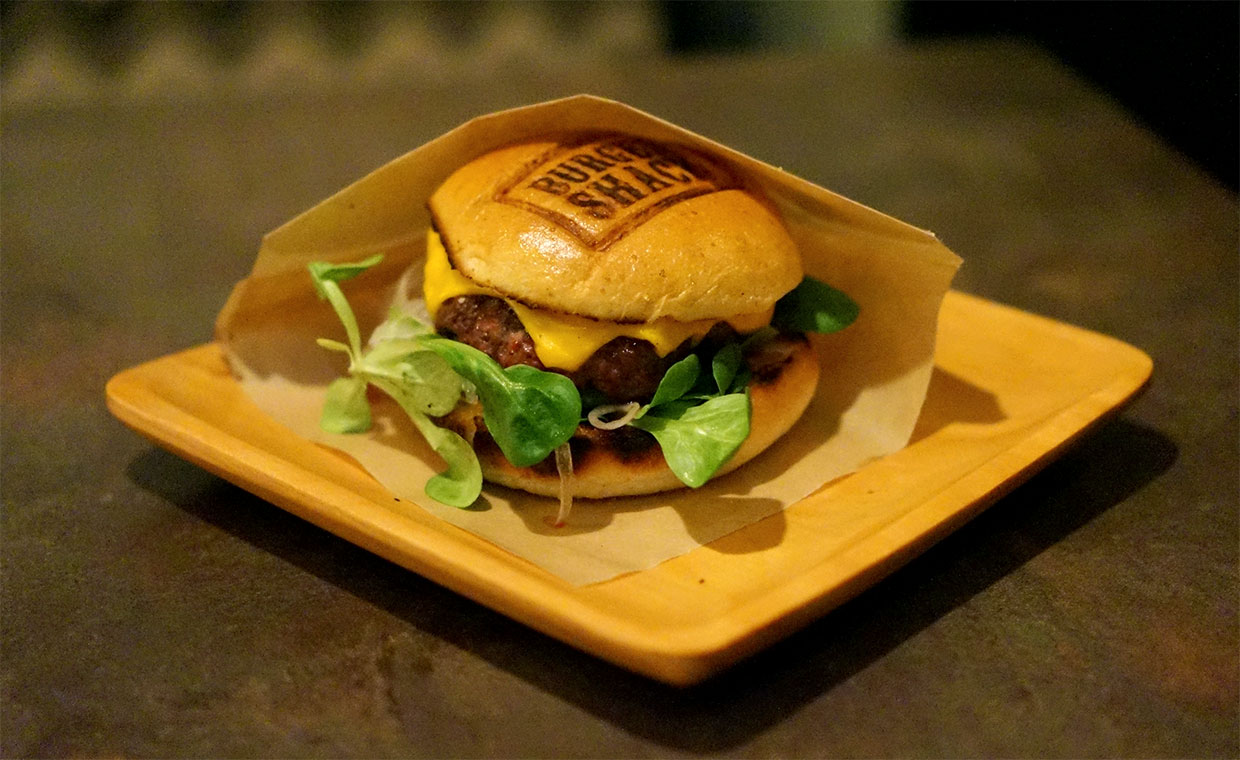 Obs! Ej att förväxla med Burgershack i London.
Uppdatering, september 2017: Buger Shack har nu stängt för gott.
Burger Shack håller till i de lokaler där vi tidigare hittade Bar & Burgers. De berättar själva att de gått "all in", med ambitionen att vara bäst. Vi tycker såklart att inställningen är helt rätt, men det kräver ändå en hel del av själva genomförandet.
Vi beställde in deras No BS-burgare med ost, sallad och lök. Surdegsbrödet de valt att köra med hade en jättebra konsistens och det var vackert rostat, men alla i gruppen gillade inte den lite syrliga smaken. Köttet var vackert rosa och med en bra yta. Enligt utsago skulle burgaren vara Blumenthaler-mald samt grillad, men fibrerna pekade kors och tvärs och vi kände ingen särskild grillsmak. Det vi däremot märkte av var den generösa saltningen, som samtliga kring bordet reagerade negativt på. Saltfesten tog över alla smaker från den snygga salladen, den stekta löken och cheddarosten. Pommes fritesen var godkänd, men dippsåserna var så pass dyra (19 kronor vardera) att vi valde att inte testa dem.
Burger Shack har ännu inte hittat riktigt rätt. De serverar en klart godkänd burgare i mellanprisklassen, men intrycket är spretigt och lite slarvigt. Vi håller tummarna för att de fortsätter att finslipa sitt koncept och vi kommer att följa deras resa framöver.
In English
Burger Shack is located on Erstagatan in Stockholm's Södermalm district, where Bar & Burgers used to be. They have high ambitions, but they haven't gotten all the details right just yet. We ordered the "No BS" burger with cheddar cheese, fried onion and salad. The sourdough bun looked good and had good texture, but the slightly sour taste disagreed with some of us. The patty was fried medium rare with a nice crust. It was supposed to be prepared using the Blumenthal method and be grilled rather than fried – but we couldn't really notice any of this. We did however notice the excessive use of salt. The fries were ok, but we skipped out on the dipping sauces due to their unusually high price. All in all Burger Shack serve a pretty good burger in the medium price range, but there is potential – and ambition – for more. We will follow their progress with anticipation.