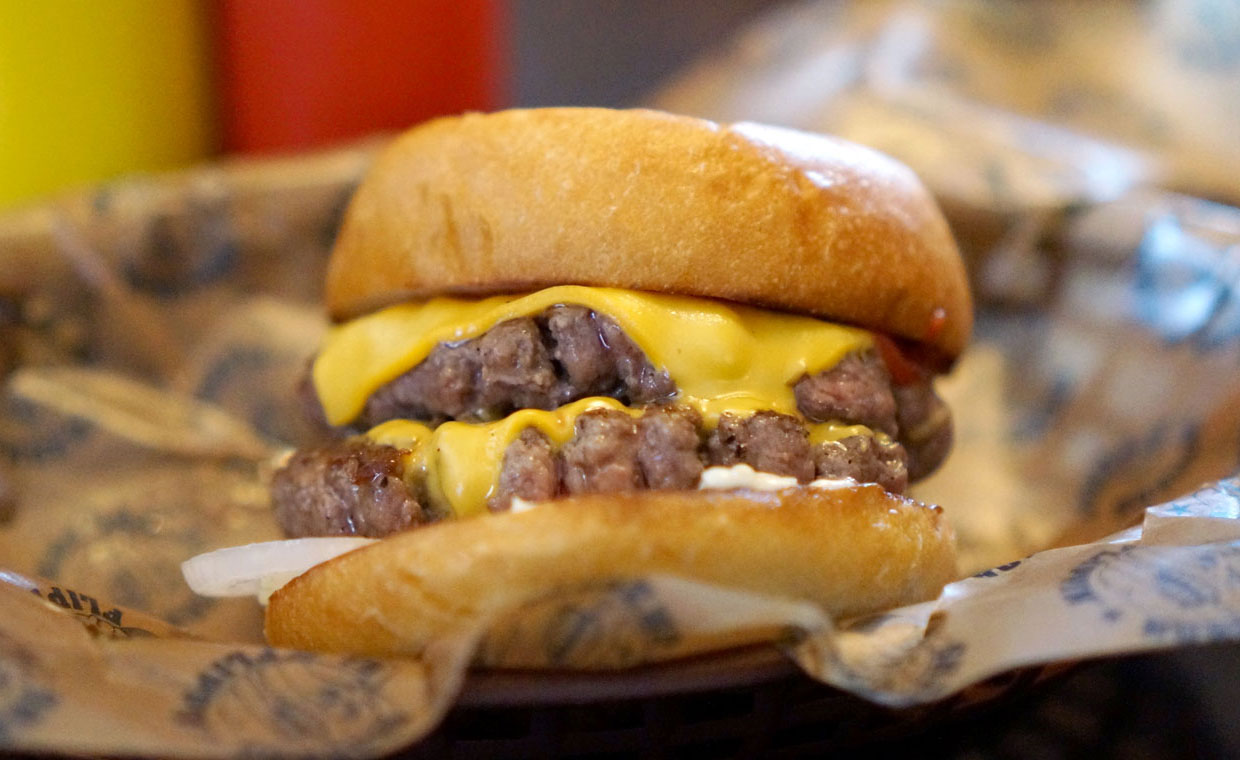 Foodtrucken Sliders by Flippin' Burgers kom tvåa i Juryns pris på Stockholm Burger Fest 2016!
Man kan säga att Sveriges intåg i burgarvärlden inleddes med att Flippin' Burgers lanserades under våren 2012. Trycket har varit enormt sedan dess, men de större lokalerna vid Odenplan har inte lyckats stävja köerna nämnvärt. Vid det senaste besöket stod närmare 30 personer utanför dörren redan vid öppning.
Fast väntan är befogad. Här samsas (ofta ekologiskt) blumenthalmalt kött med färskbakat, saftigt, ekologiskt och lätt uppvärmt bröd. Det går ofta att få en stor köttpuck (150 g) eller två mindre (100 g), men båda varianterna lyckas med konststycket att vara lite rosa i mitten. Det finns ofta rätt många valmöjligheter, men det är kanske inte motiverat att ha separata hamburgare, cheeseburgare samt cheeseburgare med senap, ketchup och majonnäs. Detta uppvägs dock av att de har en månadens burgare som ofta lyckas sticka ut (vår favorit var den förvånansvärt smakrika och välbalanserade jalapeño-cheeseburgaren mellan en sockrad munk). Tillskottet av den ekologiska och krämiga osten från Väddö Mejerier har gjort både burgarna och deras ostdrypande pommes frites till riktiga favoriter.
Flippin' Burgers är fortfarande Stockholms bästa hamburgerhak, med ett imponerande ölutbud. Se bara till att du undviker de långa köerna genom att besöka dem precis när de öppnar!
De har även en foodtruck, kallad Sliders by Flippin' Burgers, som serverar miniburgare av likvärdig kvalitet som de som finns på restaurangen. Läs recensionen här.
In English
THE FOOD TRUCK SLIDERS BY FLIPPIN' BURGERS CAME SECOND PLACE IN THE JURY'S AWARD AT STOCKHOLM BURGER FEST 2016! - The place that started it all, Flippin' Burgers holds up against all newcomers and underdogs who are doing their best to dethrone Stockholms favourite burger joint. Fluffy, brioche rolls encapsulate the juicy Blumenthal patties, and monthly specialty burgers include surprisingly tasty flavour combinations, such as a jalapeño cheeseburger wrapped in a donut (!). The queues can be painfully long, so come early (preferrably a good 15 minutes before they open) in order to avoid disappointment.