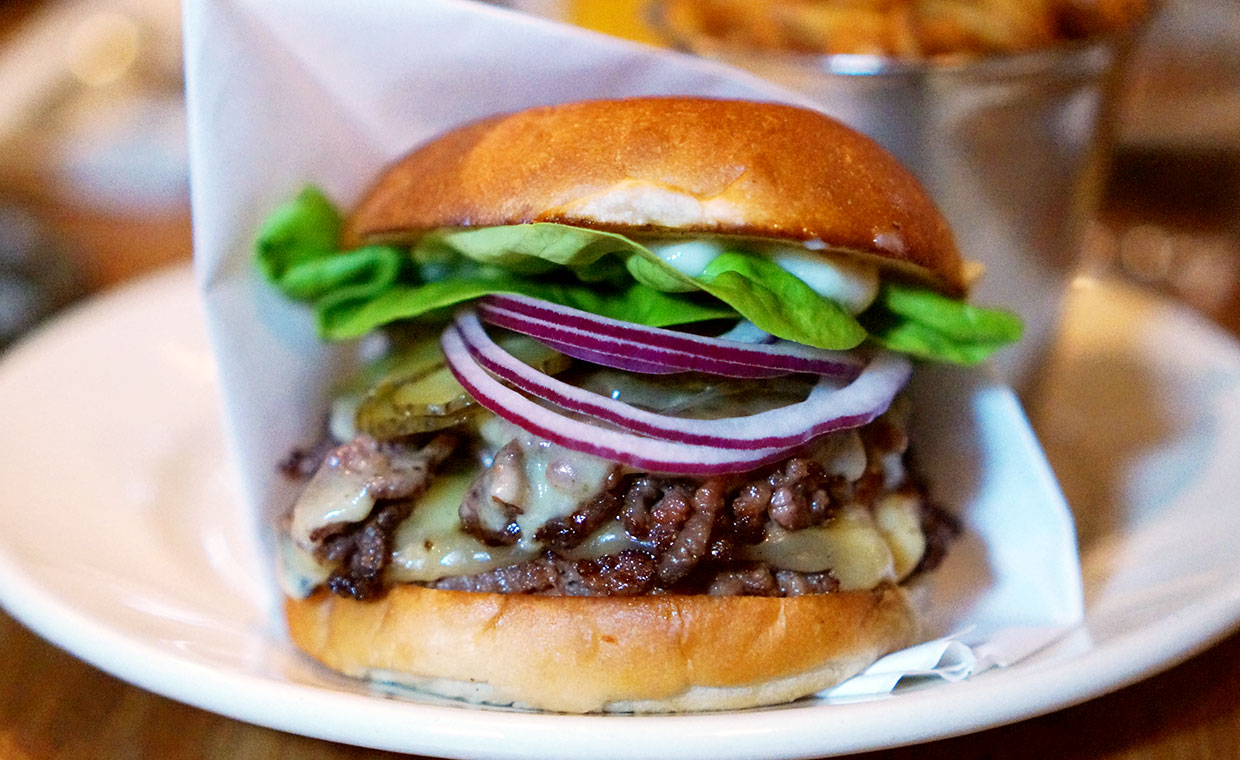 Uppdatering, Augusti 2018: Frick & Son har nu stängt för gott.
Vi ansåg länge att foodtrucken Frick & Hagberg serverade Sveriges bästa foodtruckburgare, så när de slutade rulla på Stockholms gator under början av 2016 var det många ledsna miner här på Burgerdudes. Vi blev därför otroligt glada över att de öppnade en riktig restaurang ett knappt år senare, denna gång under namnet Frick & Son.
Lokalen på Birger Jarlsgatan känns som en mysig kvarterskrog, inredd med tegelväggar och en öppen spis. Här serveras även ett litet urval av svensk husmanskost, men burgarna är ju självklart i fokus. Och de påminner väldigt mycket om truckburgarna, med Kravmärkt och Blumenthaler-malt kött i ett saftigt potatisbröd. Den rökta burgaren gör verkligen skäl för sitt namn med malt sidfläsk i själva köttpucken.
Själva burgarna smakar fortfarande otroligt gott. Det luftiga köttet är smakrikt, även om vi hade föredragit lite mer stekyta, och den egenlagade majonnäsen och dressingen ger burgaren en härligt len känsla. Brödet är lätt uppvärmt på kanterna men sällan i mitten, vilket kan leda till att det suger upp såserna och köttsafterna. Den största missen är den tunna, dubbelfriterade pommes fritesen som i stället för att vara smakrikt knaprigt snarare är sladdrig och flottig. Den serveras med en rätt anonym ketchup- och majonnäsdip och är ofta en besvikelse.
Frick & Son serverar fortfarande en av Stockholms bästa burgare, men de befinner sig kanske inte i det absoluta toppskiktet längre. Men vi är väldigt glada över att de har fått en permanent adress, och ser redan fram emot att äta en dubbel Smack Jack hos dem igen.
In English
The legendary food truck Frick & Hagberg has returned as a brick and mortar restaurant called Frick & Son in the northern parts of central Stockholm, and we're delighted to be able to try their amazing burgers with organic, Blumenthal ground beef patties in a soft potato bun. The taste is excellent, even though the loosely packed patty could do with a bit more crust. The bread is soft, but the uneven toasting sometimes makes it a bit soggy in the middle from all the juices. The main letdown is the double-fried french fries that are more greasy than crispy. Frick & Son still serve one of the best burgers in Stockholm, but they still need some work in order to get a five star review. But with that being said, we're thrilled to see them at a permanent location and are already looking forward to eating there again.