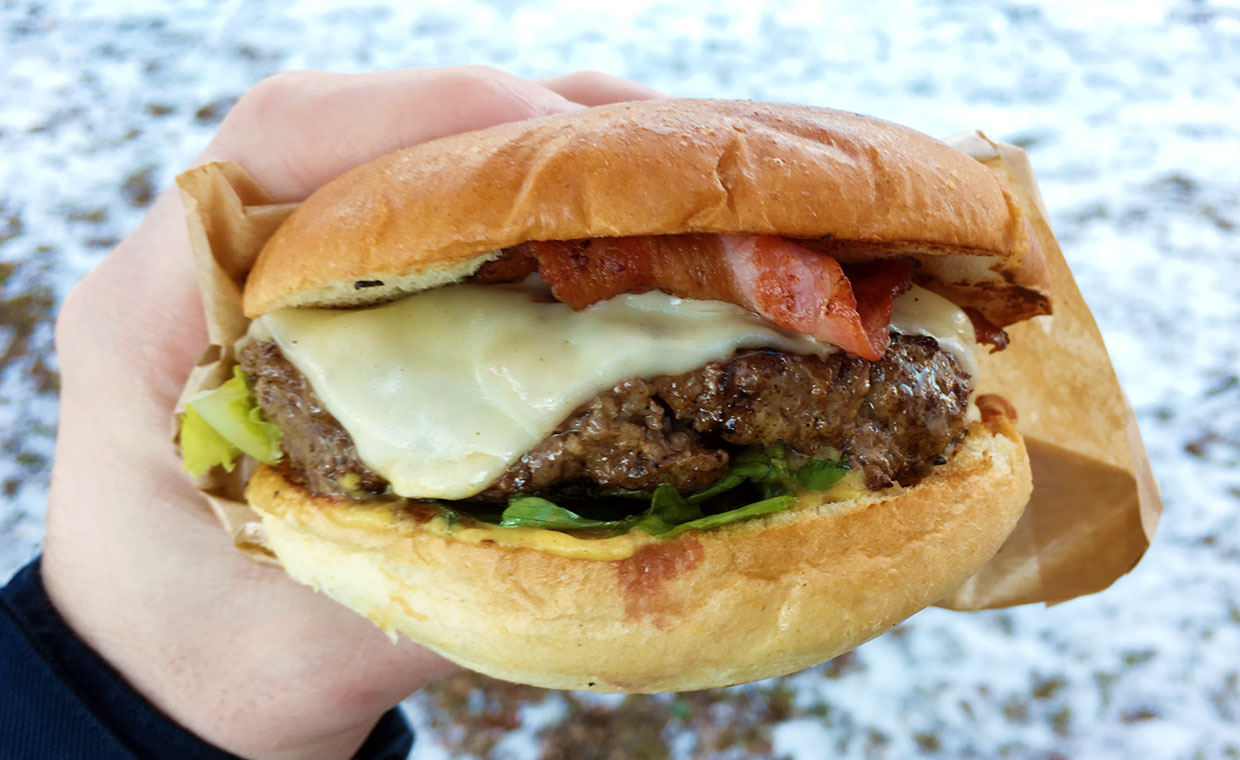 Uppdatering, mars 2017: Grillkiosk har nu stängt för gott.
Vid ett anspråkslöst industriområde i Haninge finns den alldeles nyöppnade kiosken Grillkiosk. Med mottot "ingen prestige utan bara gott käk" har de snabbt gjort ett namn för sig med sina burgare. Kan detta vara förortens svar på den numera klassiska kiosken Franky's i centrala Stockholm?
På menyn finns fem burgare som är generöst prissatta mellan 65 och 75 kronor, vilket är otroligt billigt för att vara i Stockholm. Dessutom ingår det rikligt med pommes frites till samtliga burgare. Vi valde att testa deras "Amerikanare" med barbecuesås, bacon och ost.
Burgaren som vi fick i vår hand såg både enkel och lovande ut, men köttpucken på 180 gram, gjord på 100 % italiensk högrev, var tyvärr inte tillräcklig saftig eller smakrik. Vi hade definitivt föredragit en högre fetthalt i högrevsfärsen, t.ex. med en andel oxbringa.
Garants briochebröd höll ihop burgaren bra, även om det kunde ha rostats lite längre eftersom hela burgaren snabbt blev rätt soggig. Men det största problemet med burgaren var deras val av såser. Tyvärr håller inte Slotts senap och Felix barbecuesås måttet som tillbehör längre, särskilt inte när det finns mycket bättre alternativ på marknaden.
Överlag serverar Grillkiosk en bra burgare med pommes frites till ett otroligt lågt pris. Vi hoppas bara att de gör slag i saken och förbättrar dessa uppenbara brister snart.
In English
Grillkiosk is one of the newest additions to the ever-growing burger scene in Stockholm. The small kiosk is located in the suburb Haninge and serves burgers made from 100% chuck roll at really low prices. For 65 to 75 SEK you get a burger and a large big portion of fries. The patty could have been more juicy, and we wish they'd add some brisket to increase the fat content. The bun was good, but could have been roasted a bit more to avoid the worst sogginess. The biggest downfall however was their choice of sauces, as their mustard and barbecue sauce ought to be upgraded considerably to better ones. Apart from that, Grillkiosk serve a good burger at an incredibly low price.