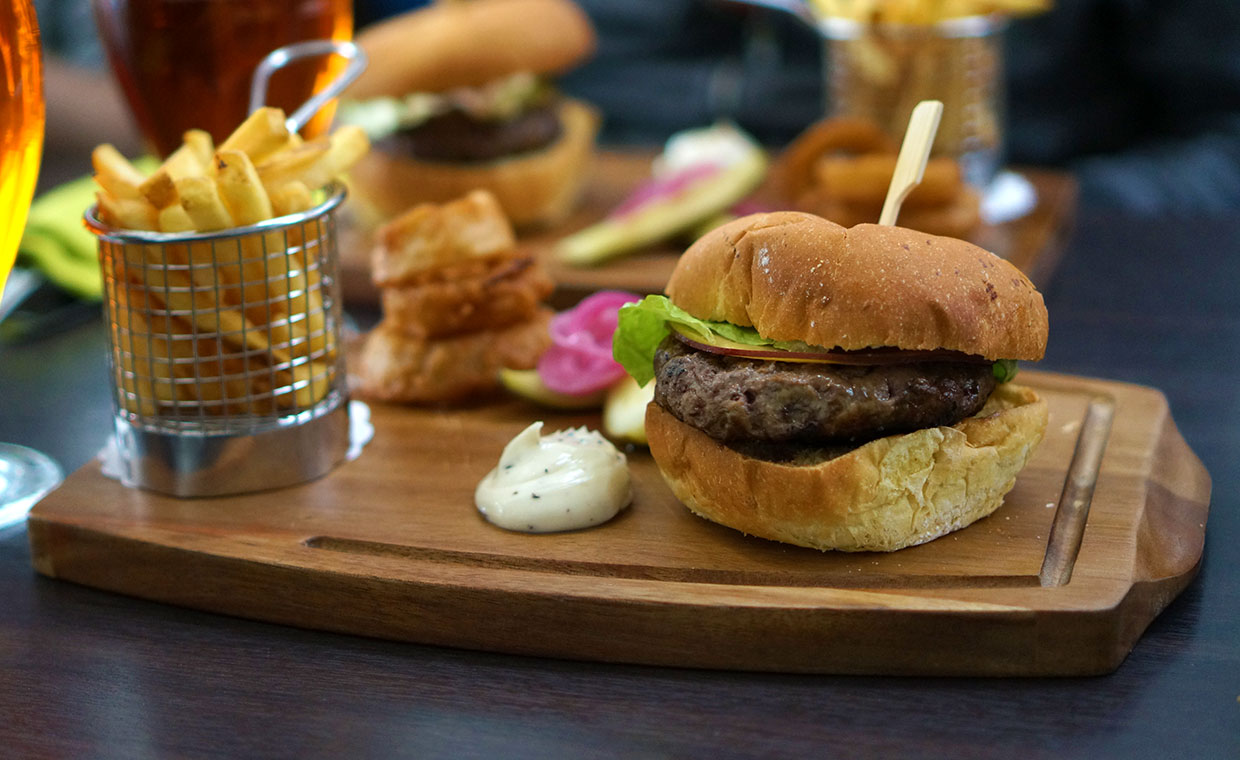 Himmel & Hav Brasserie & Bar är en restaurang innanför säkerhetskontrollerna på Arlanda Terminal 2 som du kan besöka om du har mycket tid att döda innan din flygning. Vi skriver "mycket tid" eftersom allt här går i slow motion. I en halvtom lokal där det verkar finnas en servitör per sällskap tar det över tio minuter att bli satt vid ett bord. Både upptagningen av vår beställning och sedan betalningen efteråt led av samma seghet, vilket kan vara irriterande i normala fall men är nära på oförlåtligt på en flygplats. Tidsgarantin på vissa maträtter hjälper föga när allt annat runt omkring tar en mindre evighet.
Hamburgaren i sig var okej, om än rätt dyr med en prislapp runt 200-lappen – men detta är svårfrånkomligt på en flygplats. Själva burgaren var en rätt enkel sak med ett rågliknande (och visserligen rätt mjukt) bröd och en rejäl köttpuck på 200 gram gjord på högrev. Den var faktiskt stekt medium med en skiva rökt ost ovanpå och barbecuesås under. Tillbehören som ingick var pommes frites, några lökringar och en klick god tryffeldipp.
Vi rekommenderar ändå att du besöker Pontus in the Air om du befinner dig på Arlanda (fast det ligger visserligen i Terminal 5), och i stället håller dig till ölen på Himmel och Hav.
In English
Himmel & Hav Brasserie & Bar is a restaurant inside of the security area of terminal 2 in Stockholm's Arlanda airport. The biggest problem is how slow their service is; everything from getting a seat to paying the check is accompanied by a long delay for no apparent reason. This is annoying in most situations, but unacceptable at an airport. The burger is a simple one made from 200 grams of quite tasty chuck steak with a slice of smoked cheese and barbecue sauce. Fries, onion rings and some truffle dip are included. It's not bad but a bit too expensive and we suggest you just spend your time at the terminal with a beer instead, or try the vastly superior Pontus in the Air if you want a good burger at Arlanda.