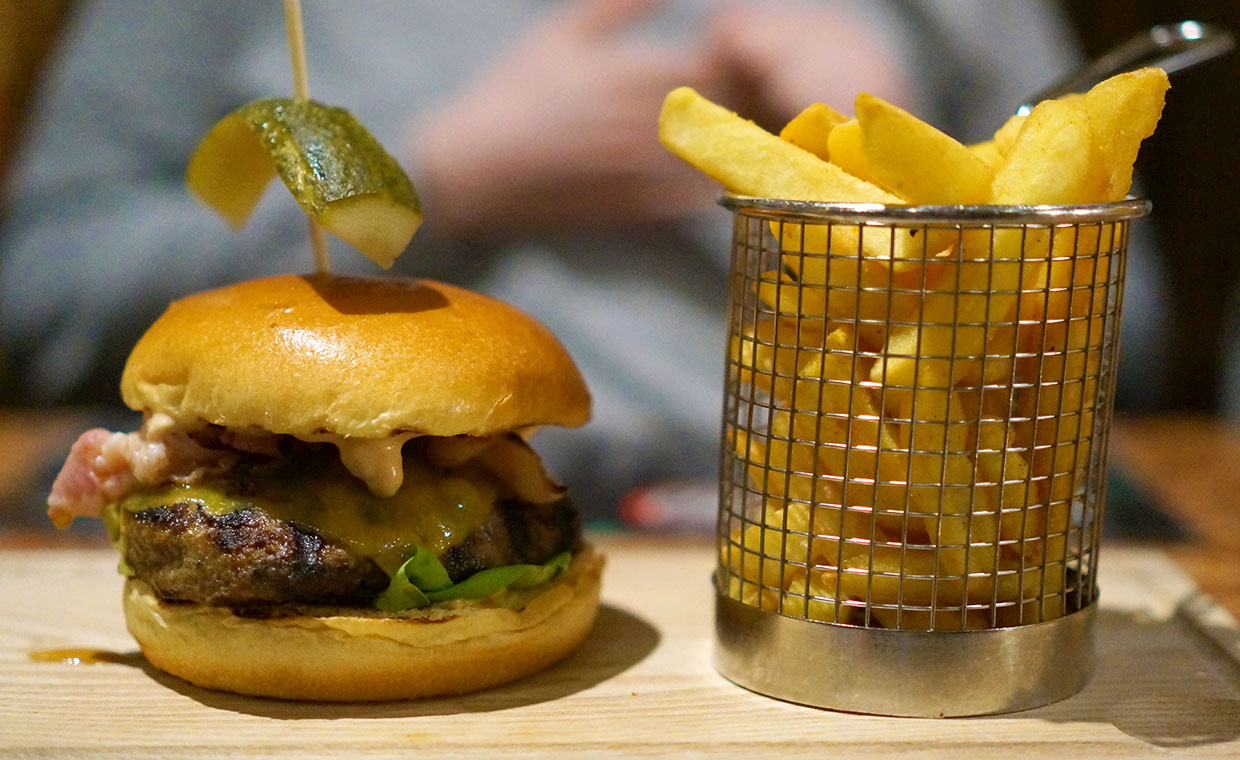 House of Burgers – även kända som V50 Restaurang – ligger på Västerlånggatan 50 i Gamla stan, precis bredvid SF-bokhandeln, och lokalen var tidigare en Indiska-butik. Det är kanske anledningen till att den stora restaurangen är fylld av stekos från köket som ligger längst in.
På borden hittades alla möjliga sorters såser, bl.a. från budgetmärket Eldorado, något som förvånade oss med tanke på den höga prissättningen. Menyn innehåller fem olika burgare, med allt från en BBQ-burgare för 129 kronor till en Double Decker Cheese & Bacon för 219 kronor.
Vi valde en American Cheese & Bacon som innehöll allt som kan förväntas med det namnet i ett briochebröd. Visuellt sett så fick vi inte ett bra första intryck, och trots detta så fick vi en negativ överraskning av den första tuggan. Brödet var kallt och aningen fuktigt, men ändå det bästa med måltiden. Köttet var ofantligt segt och hårt, med en bitvis bränd yta. En av våra burgare hade till och med en stor spricka i köttet. Baconet var så pass mjukt och ljust att en stekgrad lättare hade gjort det rått.
Det smakade som en dålig nattburgare från den lokala grillkiosken, fast för nära tredubbla priset.
Det var helt enkelt dåligt utan några förmildrande omständigheter, och när utmärkta hamburgerrestauranger som Barrels Burgers & Beers ligger runt hörnet så finns det verkligen ingen anledning att besöka turistfällan House of Burgers.
In English
House of Burgers (also known as V50 Restaurang) in Stockholm's Old Town is located in an old clothes store, which may explain the awful ventilation and the heavy smell of frying oil. We ordered an expensive American Cheese & Bacon burger with bacon, cheese, lettuce, tomato and dressing in a brioche bun. The bread was cold and soggy, but still the best part of the meal, seeing as the patty was hard and slightly burnt and the bacon was one shade away from being raw. House of Burgers serve the kind of food you'd expect from a small grill kiosk late at night, but at three times the going price. It's the quintessential tourist trap and a terrible choice seeing as excellent restaurants such as Barrels Burgers & Beers are located just a few blocks away. You deserve better than this.