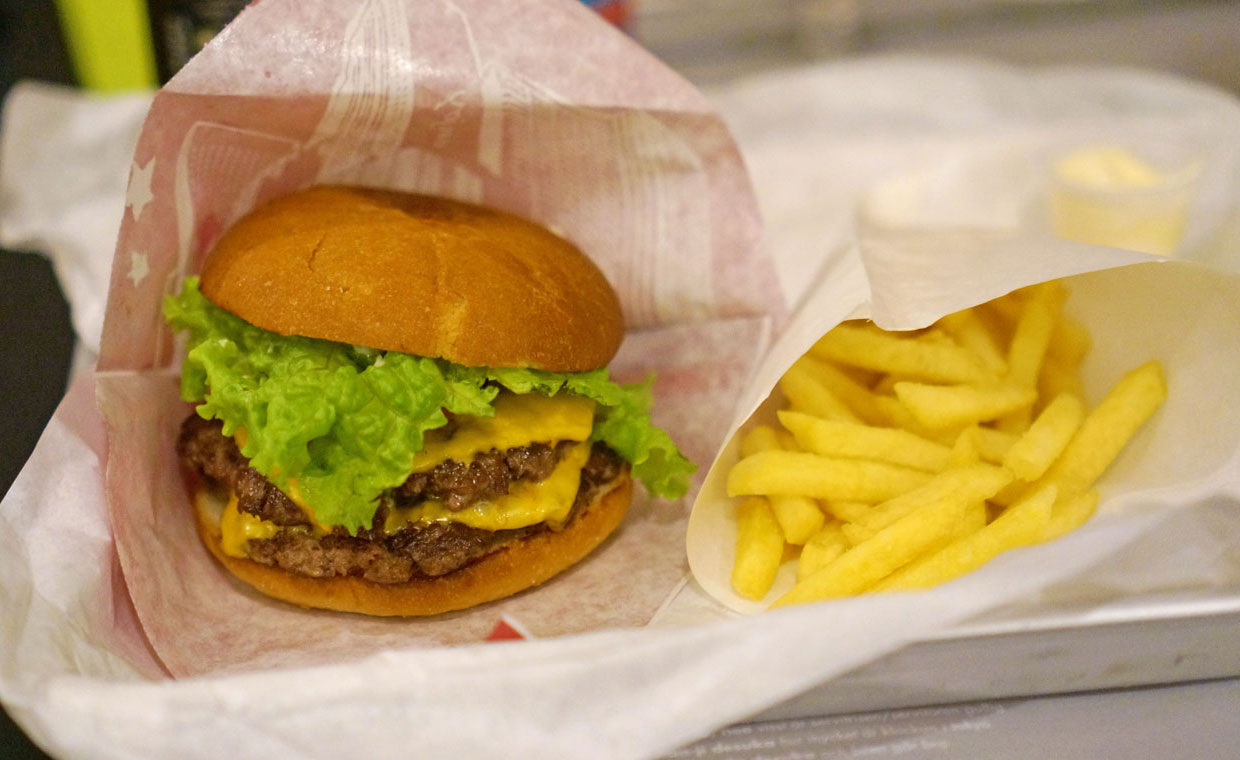 Itamae är en japansk kedja som har fem restautanger runt om i Stockholm som för det mesta fokuserar på sushi. Men ute i Sundbyberg har de adderat grill till namnet och serverar även hamburgare. Sushi och burgare låter inte som den bästa av kombinationer, men eftersom just deras burgare har fått gott rykte skippade vi fisken helt under vårt besök och fokuserade på grilldelen.
Ska du ha en burgare består urvalet endast av en cheeseburgare med pommes frites för 95 kronor. De håller burgaren nästan lika enkel som burgarmenyn i sig, och den består av två tunnare genomstekta köttpuckar med ost, sallad, shiitakesvamp och lite tryffelmajonnäs.
Resultatet av denna enkelhet är riktigt bra; köttet är saftigt och gott även när det är genomstekt och vi känner smakerna av alla komponenter. Inte ens tryffelmajonnäsen tar över smaken utan används istället som en krydda med bra effekt. Se dock upp med den extra tryffelmajonnäsen som kommer som dipp till pommes fritesen – den är urgod men kan verkligen slå ut dina smaklökar helt.
Itamae serverar helt enkelt en riktigt bra burgare till ett utmärkt pris, och vi hoppas verkligen att den tar sig till flera av deras restauranger.
In English
Itamae Sushi & Grill, located in Sundbyberg just north of Stockholm, feels like an unexpected place for us to find a good burger, but after having heard rumors we had to go there and try it out. The excellently priced cheeseburger with fries costs less than 100 SEK, and consists of two thin patties with cheese, salad, shiitake mushrooms and truffle mayo. The meat is juicy and tasty and all the components complement each other well without any of them taking over – not even the truffle mayo. We hope that Itamae turn their burgers into a regular option in the future.