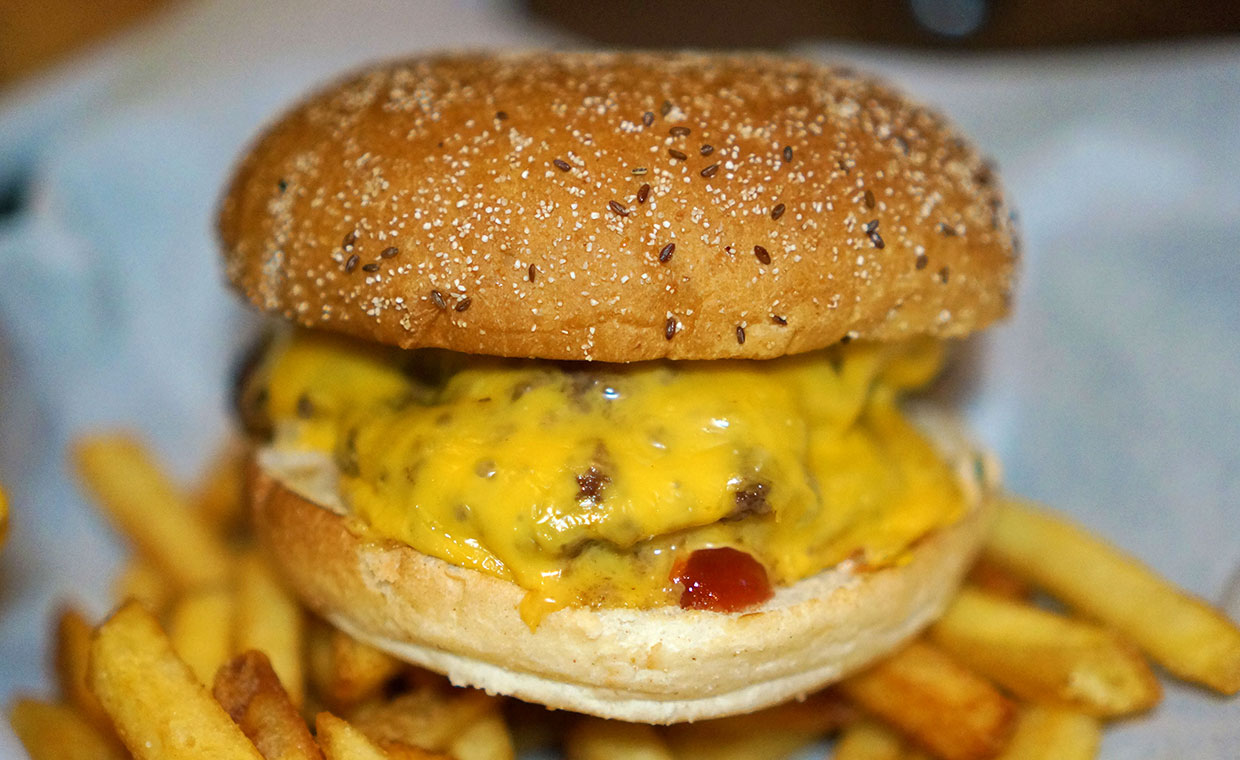 Uppdatering: Juli 2018 – Jett'z Burger har flyttat till Sockenplan. Vi har uppdaterat recensionen med den nya informationen.
Jett'z Burger har nyss flyttat från Gullmarsplan till Sockenplan, precis utanför Stockholms tullar. Den nya lokalen ligger på Enskedetorget. Det relativt låga priset och anonyma kiosken gjorde oss förberedda på en kärlekslös ölhaksburgare, men det var en oberättigad oro. Ägaren visade sig ha jobbat på Babas Burgers & Bites från starten, och passionen för burgare var tydlig.
Vi valde att testa deras cheeseburgare med två smashade 60-gramspuckar, ost, inlagd gurka, lök, ketchup och dressing. Menyn kostade endast 99 kronor, och då ingick även pommes frites och en dippsås. Det smashade köttet var genomstekt, men hade ändå en god smak och en fin textur. Överlag kändes det som en stabil och klassisk burgare där det mesta satt som det skulle.
Brödet vi fick påminde om ett Frisco-bröd som vi inte gillade alls, men det var tydligen en tillfällig variant. Och tack vare att vi även fick möjlighet att testa deras ordinarie briocheliknande bröd så påverkas inte betyget.
Jett'z Burger serverar helt klart den bästa burgaren i Sockenplan, trots att vi inte fick någon riktig wow-upplevelse av något. Men den låga prisnivån och de gedigna ambitionerna gör att de helt klart förtjänar lite uppmärksamhet, den anonyma placeringen till trots.
In English
Jett'z Burger is located on Enskedetorget by the subway station Sockenplan, in the southern suburbs of Stockholm. The owner used to be a chef at Babas Burgers & Bites back when Stockholm started taking burgers seriously, and his passion for burgers is strong. We tried their cheeseburger which consisted of two smashed 60 gram beef patties, cheese, pickles, onions, ketchup and dressing. The meat was well done, for obvious reasons, but had a good taste and texture. Overall it felt like a well-prepared classic cheeseburger, with one exception: the quite awful bun. Thankfully this turned out to be a temporary bun in place of their regular brioche version, so we'll leave it at that. A burger with fries and dip only costs 99 SEK, and all things considered that's a good deal seeing as they serve the best burger in the Sockenplan area.