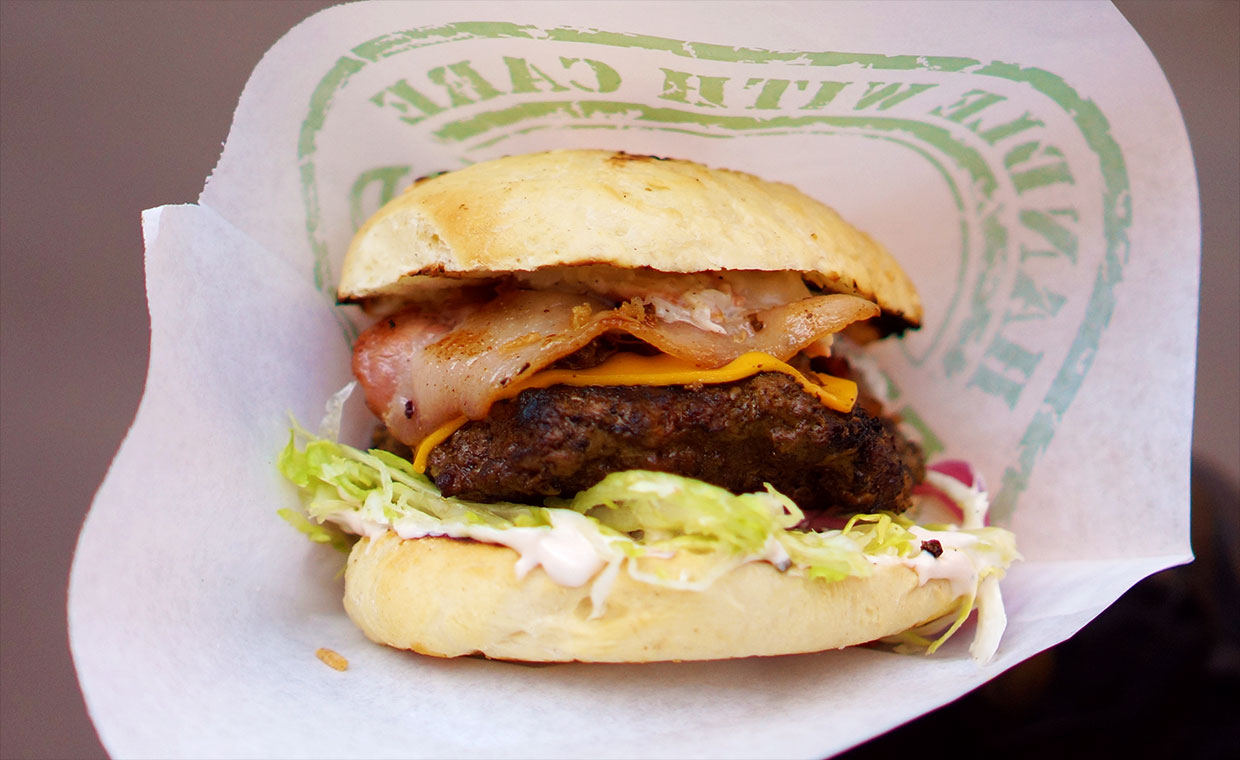 Kantarellkungens foodtruck har rullat på Stockholms gator ända sedan 2013. Paradrätten är deras kantarelltoast med västerbottenost, men de har även en högrevsburgare som de är stolta över.
Själva burgaren är 150 gram stor och innehåller kantareller, sallad, inlagd rödlök och västerbottenost, fast vi fick faktiskt fråga personalen om själva kantarellerna då de inte riktigt syntes till. Det visade sig att det endast rörde sig om en kantarellstuvning, vilket förtog lite av upplevelsen då den knappt märktes av. Västerbottenosten tog nämligen över, och den något skarpa smaken dominerade smakbilden.
Köttet var åtminstone svagt rosa i mitten med en välstekt yta, men det var svårt att känna någon nämnvärd smak över huvud taget. Baconet var dessutom sladdrigt, och brödet passade inte heller särskilt bra, då det smakade för mycket och stack ut med sin textur. Den enda riktiga höjdpunkten utöver köttets stekgrad var egentligen den inlagda rödlöken, som smakade sötsyrligt och lyckades bryta igenom de andra smakerna med sin friskhet.
Kantarellkungen har eventuellt mycket bättre klämmor och toasts, men på burgarfronten lyckas de tyvärr inte imponera.
In English
Kantarellkungen's foodtruck has served chanterelle mushroom toasts in Stockholm since 2013, and they've had a burger on their menu for quite a while now, with chanterelles, the distinctly Swedish Västerbotten cheese, pickled onions and salad. Unfortunately we hardly noticed the stewed chanterelle mushrooms, and the cheese took over flavourwise together with the bread. The meat was nice and pink, but didn't taste of much, which was quite disappointing. We can't say much about their other dishes, but their burger didn't impress us.