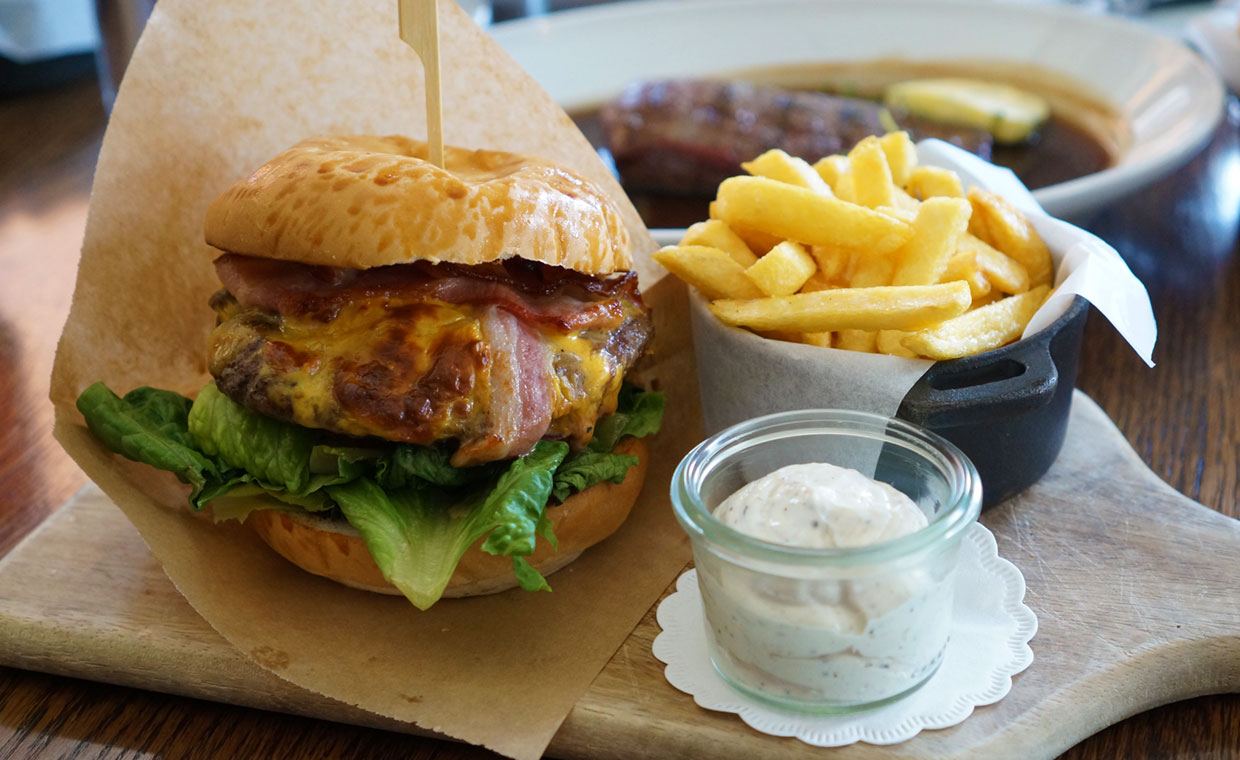 Många restauranger försöker ta del av burgarhysterin genom att ha sin egna burgare på menyn, men dessvärre märker vi allt för ofta att de inte har någon aning om vad som gör en burgare bra. Bistroburgaren från Kornhamnstorg No.53 i Gamla Stan kostar saftiga 185 kronor och innehåller ost, bacon, sallad, tomat, BBQ-sås och en lökkompott, och serveras tillsammans med pommes frites och tryffelmajonnäs.
Burgaren presterades snyggt i en pappersficka på en skärbräda tillsammans med tillbehören, men brödet såg snarare ut som en ostfralla än det fluffiga briochebröd vi är vana vid och föredrar. När vi väl började äta märktes att ingredienserna hade en god smak men saknade textur, vilket gjorde att burgarens komponenter mest smälte samman på ett trist sätt. Köttet hade en alldeles för anonym smak, samtidigt som brödet snabbt blev geggigt av de blöta salladsbladen.
Det vi dock gillade med måltiden var den krämiga och goda tryffelmajonnäsen. Tyvärr räcker inte en bra majonnäs för att rädda en undermålig burgare och mediokra pommes frites. Sammanfattningsvis är detta ett skolboksexempel på en burgare gjord utan passion, och med ett så här högt priset ska man kunna förvänta mycket mer än så här – särskilt när Gamla Stan redan erbjuder fantastiska burgare från Barrels Burgers & Beer, Tweed, The Flying Elk och Miss Behave Bar.
In English
Many restaurants in Stockholm are trying to be a part of the burger hysteria that's swept the city, but with varied results. Kornhamnstorg No.53 in Gamla Stan is such a place, serving burgers without really knowing what makes them good. Their burger with bacon, cheese, barbecue sauce and an onion compote had several problems. The burger tasted quite nice overall, but the texture was bland and the meat had an anonymous taste. The bun also became soggy real quickly due to the wet lettuce. The best thing with the meal was the truffle mayo together with the fries, but that can't save this boring and expensive burger from a low score.