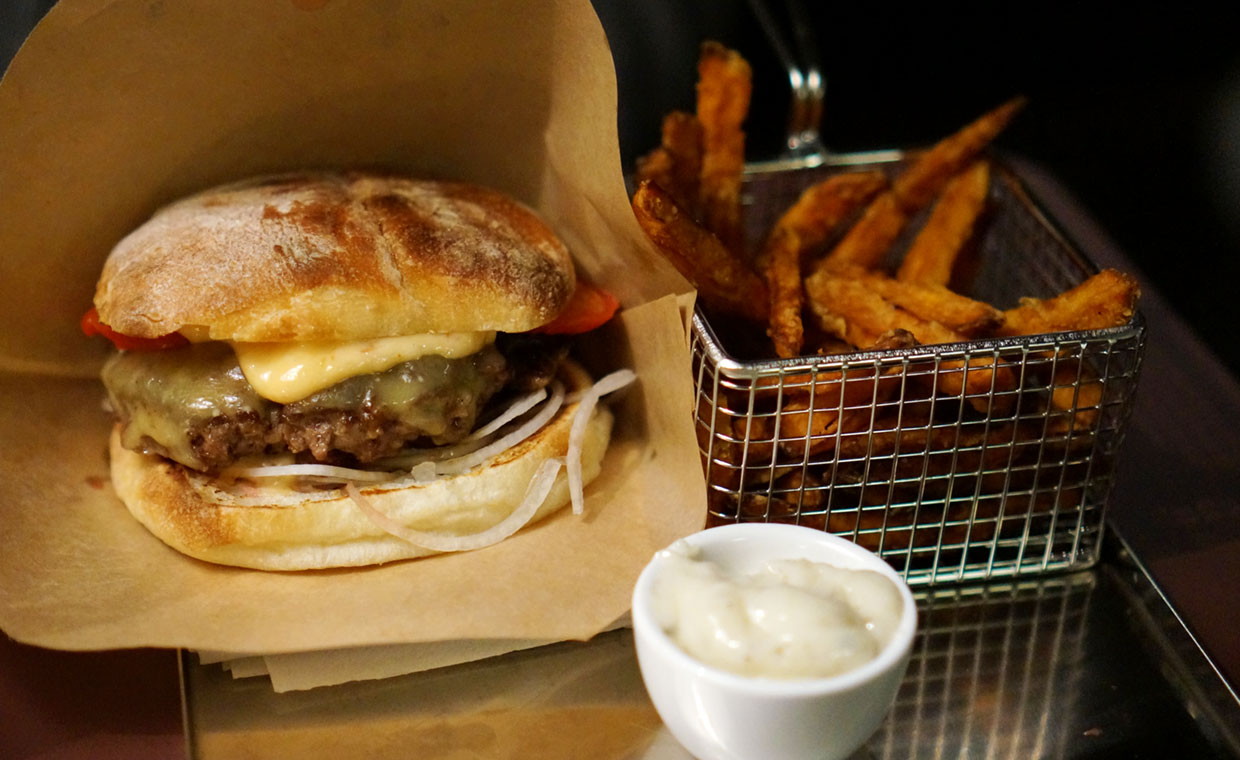 Stockholmsrestaurangen Levinskys Burger i Vasastan ligger nästan vägg i vägg med Burgers & Beer, och har legat på Rörstrandsgatan i över 16 år. I slutet av förra året renoverade de lokalen och ändrade även sitt koncept till ett renodlat burgarhak.
Menyn erbjuder sju stycken burgare som samtliga är prissatta strax över 100 kronor, utan tillbehör. Vårt val denna gång föll på deras burgare "Hot & Smokey" med cheddarost, bakad tomat, silverlök, tärnat rökt sidfläsk och chipotledressing.
Vi reagerade direkt på brödet när burgaren serverades. Detta var absolut inte det briochebröd vi har blivit vana vid, utan kunde nästan liknas vid ett pizzabröd. Dess sega konsistens och torra yttre skal lämpade sig inte alls för burgaren. Brödet var helt enkelt inte tillräckligt följsamt, vilket resulterade i att innehållet lätt ramlade ut.
Köttet hade även det en märklig konsistens och kändes inte malet utan mer som om det vore finhackat. Köttet var relativt luftigt, men vissa delar av pucken hade mer tuggmotstånd än andra. Det tärnade sidfläsket var även det lite för tuggigt för vår smak. Pommes fritesen var i alla fall habila och motsvarade vad vi förväntar oss av ett burgarhak idag.
Överlag har Levinskys Burger många problem med sina burgare. Vi kan se att de har ambitioner, men de behöver se över sina märkliga beslut om de ska lyckas ta sig dit de vill.
In English
Levinskys Burger are located in the Vasastan district in Stockholm and have been in business for over 16 years. Last year they renovated the restaurant and rebranded themselves as a burger joint. We tried their Hot & Smokey burger for 112 SEK with cheddar cheese, oven-baked tomato, onion, diced bacon and chipotle dressing. The bun was really weird and reminded us of pizza bread with its chewy texture and dryness. We can't really understand the reasoning behind this choice of bread since it's clearly not optimal as a burger bun. The patty was lacking in flavour and could have been a lot juicier. Even the diced bacon had a quite chewy texture to it. Overall we see their ambition to make good burgers, but they need to go back to the drawing board if they want to reach their goals.