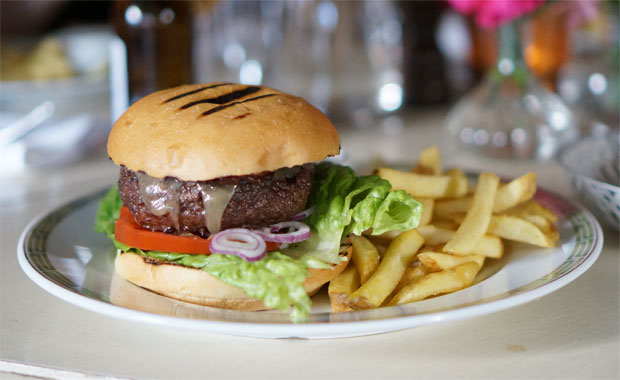 Milles bakficka – eller Michelle van der Milles som det faktiskt heter – är granne med och lillasyster till restaurangen Strandvägen 1. Adressen är en av Stockholms exklusivaste och vinlistan är omfattande. Inte ett traditionellt burgarhak alltså, men köket är välrenommerat och eftersom de har en högrevsburgare på menyn så är de värda ett besök.
Första intrycket av burgaren är aningen förvirrande. Vi beställde in fyra burgare totalt, och alla såg ganska olika ut. En av oss fick ett jättestort salladsblad i botten, en annan fick en jättelik tomatskiva medan en tredje tycks knappt ha fått något grönt alls. Första tuggan blottar en perfekt stekt köttpuck med en jämn och vacker rosa ton. Trevligt. Kommande tuggor bjuder dock på varierande överraskningar; en plötslig stor baconbit, en intensiv kick av rödlök, en lätt majonnäschock. Och alltså inte allt på en och samma gång utan varje tugga bjöd på något nytt. Så ska det inte vara.
Vi möts av leende personal och själva köttet är jättebra – men helheten är spretig. Vissa ställen brinner för att skapa den perfekta burgaren, medan andra har ett mer generellt fokus på bra råvaror och service. Milles Bakficka tillhör helt klart den sistnämnda kategorin.
In English
Michelle van der Milles, better known as Milles Bakficka, is located at one of the most exclusive addresses in Stockholm. They also serve one of Stockholm's most expensive burgers. The meat in itself is really good, but the burger as a whole is an uneven experience. Some places strive to create the perfect burger, but Milles seems more interested in delivering a casual fine dining experience without too much attention to detail.