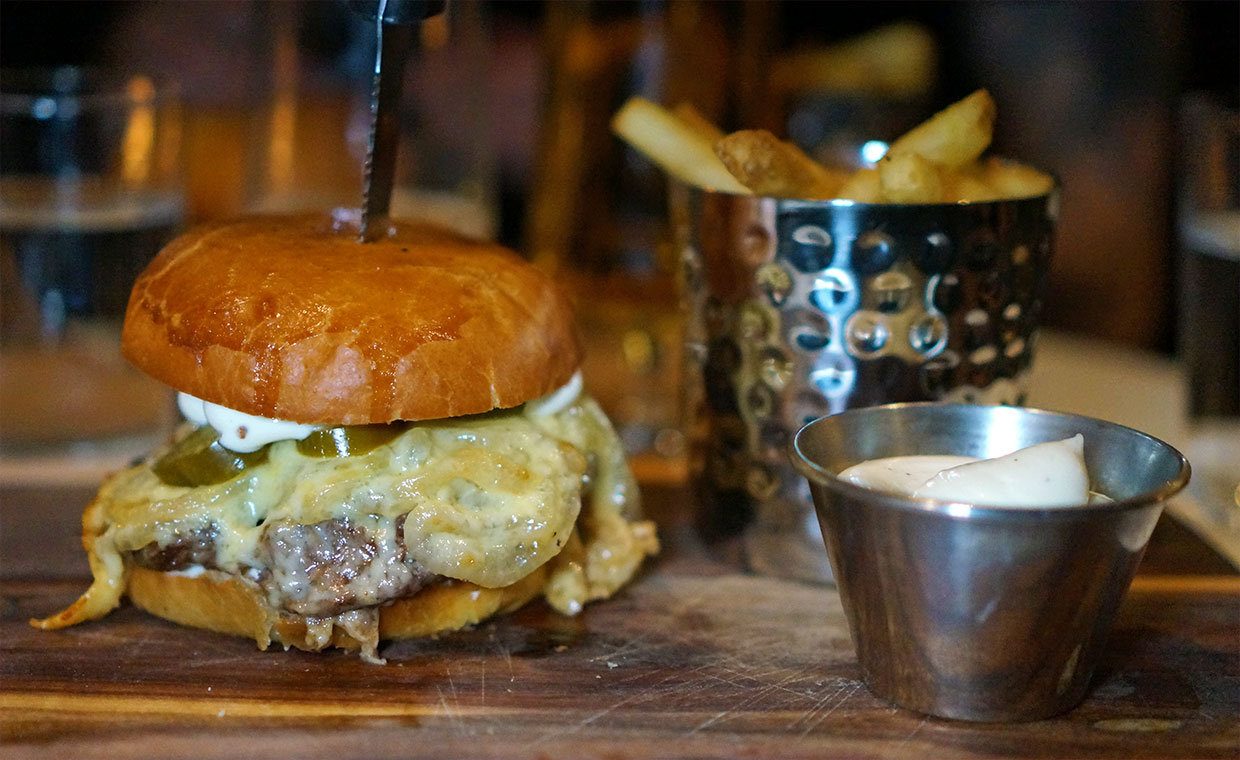 NyKo Kitchen på Östermalm i Stockholm har fått sitt namn efter sin adress; nämligen korsningen Nybrogatan och Kommendörsgatan. Lokalen är rymlig och trevlig, och bjöd på en blandad publik vid vårt besök. Menyn lockade med både trendiga och klassiska maträtter, men vårt val var enkelt då Chef's Burger var den enda hamburgaren som erbjöds.
Burgaren innehöll tryffelmajonnäs, stekt lök, lagrad cheddar samt jalapeños, och serverades på ett briochebröd med pommes frites och en tryffeldipp vid sidan om. Det var mycket av allt, och det droppade och rann lite överallt redan innan vi ens hade hunnit börjat äta.
Köttet visade sig vara helt genomstekt och hade en tråkig grå ton, och de många starka smakerna på burgaren slogs om dominansen snarare än att hjälpa varandra till nya nivåer. Tyvärr innebar detta överflödet i kombination med det ganska kompakta köttet att måltiden blev mer av en utmaning än en upplevelse.
Pommes fritesen var både krispiga och fluffiga på helt rätt sätt, men den gjorde inte mycket för helhetsintrycket. NyKo Kitchens burgare var inte förfärlig, men den ville för mycket och levererade på fel punkter vilket resulterade i en medioker middag. En prislapp på 195 kronor sätter förväntningarna och kraven högre än vad de lyckades prestera.
In English
NyKo Kitchen are located in the corner of Nybrogatan and Kommendörsgatan in Stockholm's Östermalm district. They are a contemporary restaurant offering both trendy and classic dishes, and we tried their Chef's Burger with truffle mayo, fried onions, aged cheddar and jalapeños on a brioche bun, with a side of fries and truffle dip. The burger was loaded with toppings and dripping all over even before we started eating. Unfortunately, the meat was cooked well done and looked grey and dull. The many strong flavours competed for dominance instead of helping each other reach higher heights, and the massive quantities together with the compact meat made the burger more of a challenge than an enjoyable meal. The 195 SEK price tag comes with certain expectations, and ours unfortunately weren't met.