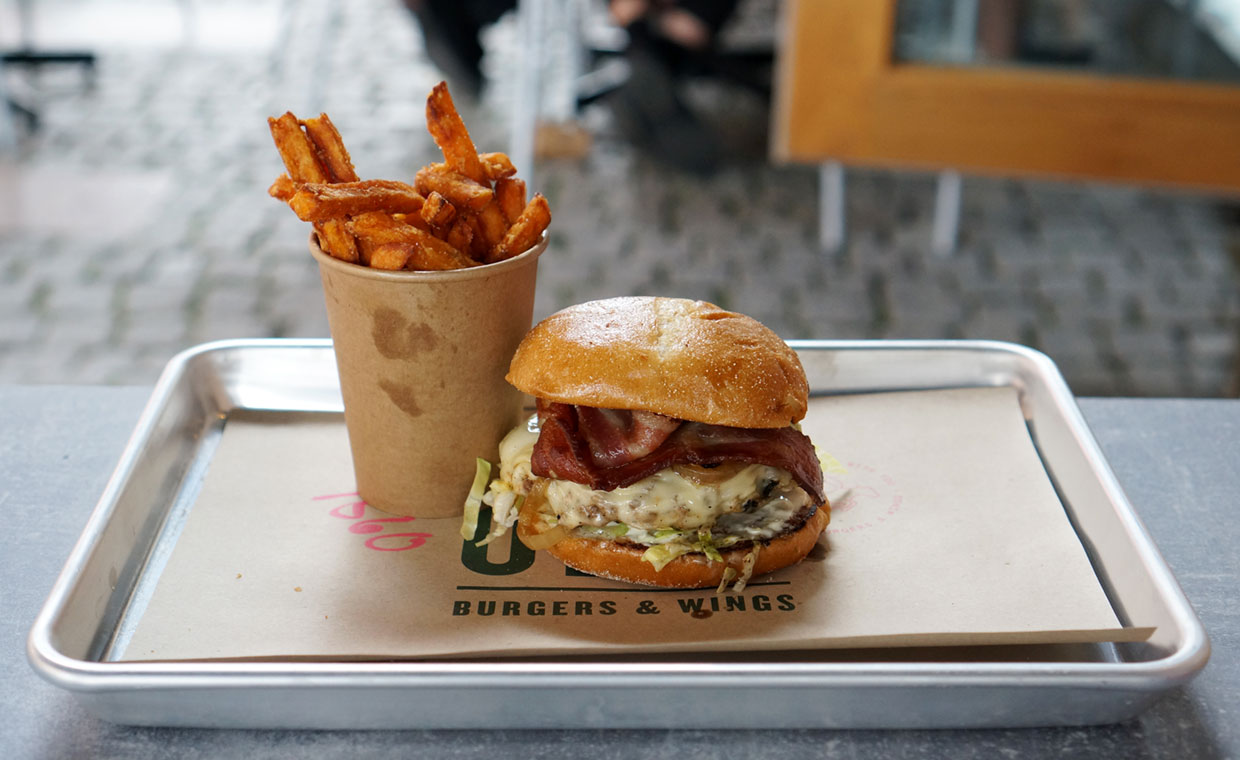 Uppdatering, november 2016: OBW har nu färskmalet kött. Det är inte perfekt, men denna kvalitetsförbättring gör att vi har höjt betyget från 2/5 till 3/5.
Uppdatering, december 2016: OBW har nu stängt för gott.
Burgartrenden är fortsatt stark här i Sverige, vilket blir särskilt märkbart när etablerade restauranger väljer att satsa extra mycket på just hamburgaren. Denna gång är det OBW – Outstanding Burgers and Wings som lanserats av krogkedjan O'Learys. Konceptet specialiserar sig på hamburgare och kycklingvingar och har storslagna planer på att etablera sig i hela Sverige inom kort.
Vi besökte deras första restaurang, som ligger bredvid FilmStaden Sergel vid Hötorget. Menyn lockade med både vegetariska burgare och kycklingvingar, men vi valde ändå en OBW Classic med bacon, emmentalerost, karamelliserad lök, senapsmajonnäs, sallad och tomat, som kostade under hundra kronor inklusive en sideorder – vi valde deras frasiga pommes frites på sötpotatis som smakade alldeles utmärkt.
Burgaren som serverades såg bra ut. Briochebrödet var fint rostat och smakade riktigt bra, och både grönsakerna och osten smakade fräscht. När vi besökte OBW första gången hade köttet varit fryst tidigare, men vid vårt andra besök hade de färskmalet kött som var stekt medium rare. Trots detta smakade det inte så mycket, men vi anser att det är en klar förbättring som gör OBW till ett prisvärt alternativ om du befinner dig i närheten.
In English
OBW – Outstanding Burgers and Wings is the Swedish restaurant chain O'Learys foray into the gourmet burger world, and they have ambitious plans to expand their chicken wing and burger restaurants all over Sweden. We appreciated several things, such as the low price-point, their excellent sweet potato fries and the toasted brioche bun. They now also have freshly ground chuck patties, making them an acceptable alternative if you find yourself near one of their restaurants.