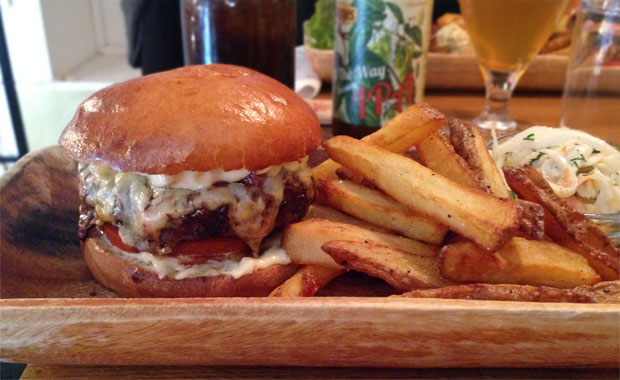 Det är många som säger att den anrika hamburgaren från kvartersbistron Oljebaren är en av de bästa i Stockholm.
Hamburgaren presenteras vackert på ett uppläggningsfat av trä, och kan verkligen beskrivas som ögongodis. Råvarorna håller hög standard med grovmalet kött från Simgus-kon, fluffigt egenbakat bröd, krispig Rocklunda-bacon, egengjord dressing och vällagrad Gruyère-ost.
Det är svårt att inte bli hänförd av denna vackra syn, men även om allt håller hög klass finns det problem. Köttet är saftigt precis som det ska vara, men tyvärr smakar det inte så mycket. Dessutom tar dressingen i kombination med osten över smaken lite väl mycket.
De trippelfriterade pommes fritesen var visserligen väldigt goda med fin krispighet och saltning, som tillsammans med den egengjorda ketchupen skapade en riktigt fin smakupplevelse. Tyvärr var coleslawen som serverades till måltiden väldigt tråkig och smaklös.
Sammanfattningsvis serverar Oljebaren en väldigt bra burgare, som trots missarna är värd sitt pris på 189 kronor.
In English
The burger at Oljenbaren has been hailed as one of the best hamburgers in Stockholm, and presentation-wise there's no debating that this is a beautiful creation. The homemade bun and coarsly ground patty are flavoursome and well made, but the dressing and cheese are a bit of a letdown – as is the coleslaw. However, the triple deep-fried fries are a treat. Despite a quite hefty price tag of 189 SEK, we warmly recommend a visit.