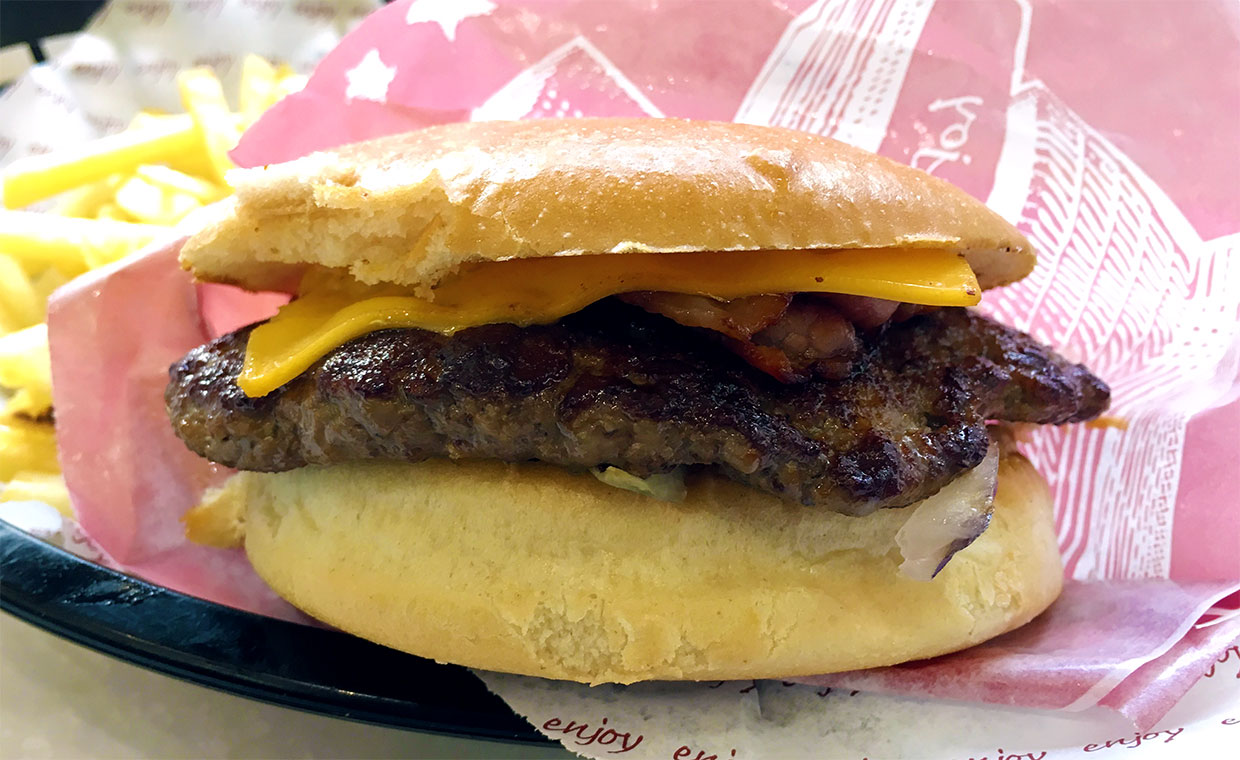 Generellt brukar vi inte recensera klassiska gatukök, men när de utannonserade att deras burgare görs av 100 % Black Angus-kött som de malt själva blev vi givetvis nyfikna. Att de har aktiva Instagram– och Snapchat-konton som ständigt uppdateras med välkonstruerade burgare gör inte saken sämre.
Vi beställde en klassisk ost- och baconburgare på 170 gram med pommes frites och läsk för 100 SEK. Burgaren tillagades hastigt och strax satt vi där med beställningen framför oss. Den klassiska känslan av att "burgaren ser inte ut som på bilden" infann sig tyvärr snabbt och lustigt, för den platta burgaren lämnade mycket att önska rent estetiskt. Osten var knappt smält och de två tunna baconskivorna såg ganska ledsna nu.
Brödet var visserligen mjukt och bra, men borde ha rostats mer då det blev alldeles uppblött av både köttet och dressingen. Köttet var dessutom alldeles för kompakt, men smakade åtminstone gott. Den klassiska sötsliskiga hamburgardressingen var inte heller någon höjdare, och den motverkade smaken av osten och baconskivorna snarare än att förhöja den. Pommes fritesen var av samma habila kvalitet som man kan förvänta sig av ett klassiskt gatukök.
Överlag var detta en stor besvikelse för oss. Kanske krävs det att man tajmar sitt besök efter rätt burgarintresserade kock för att få samma burgare som syns i sociala medier, men en sån strategi är sällan hållbar i längden.
In English
Östermalmsgrillen is a grill kiosk located in the Östermalmstorg district in central Stockholm. They got our attention when they announced that they grind their own Black Angus meat everyday and by showing their well-crafted burgers on Instagram. But when we got our cheeseburger with bacon it didn't look at all like id did in their pictures. The flat burger had unmelted cheese on it and two tiny slices of bacon. The untoasted bun was fluffy, but got soaked by the dressing and meat. The patty was really compact, but had an okay flavour at least. The classic sweet burger dressing didn't go well with the cheese and bacon either. The fries were basic, but were a bit boring and undercooked. Overall we were disappointed and expected more burger love than this.